'Bummed' Miley Cyrus reacts to Super Bowl with bizarre racy photo sans pants
The  26-year-old singer, songwriter, and actress, Miley Cyrus, wowed fans with a recent photo she shared during the Super Bowl.
Cyrus, a Rams supporter, was devasted when her team lost to the Patriots at the Super Bowl and shared her grief with fans on Instagram and Twitter. 
She shared a photo of herself wearing only an oversized shirt, wearing no pants while looking sadly up at the camera. The image can be seen below. 
Cyrus wrote in the caption that she was "bummed" at the loss, but added that she'd be performing at the Grammy's this week, which made her happy. 
She later explained that the posted the pic "for no reason," and the image wasn't related to football. Cyrus wrote: 
"Tried to correlate this pic to the game. But it all sounded stupid. Cuz [sic] this pic is stupid & pointless." 
Cyrus seemed to have found a fan in Lindsay Lohan, who recently told People that her she would love to host Cyrus at her Beach Club. 
The 32-year-old Lohan – currently working on "Lindsay Lohan's Beach Club on MTV – told the publication that she loves Cyrus, and added: 
"And she's been so supportive of everything that it'd be amazing to be have her there. It would just be a great honor, and I'd be so grateful. We've known each other forever, and I love her, and my sister loves her, so it would be a cool thing."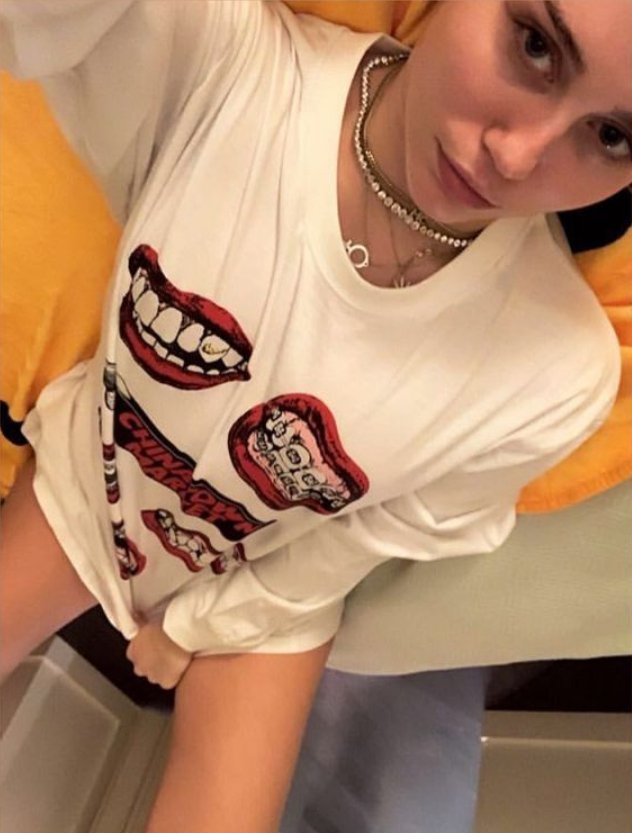 Cyrus hasn't confirmed yet if she'll accept the invitation, but did say online that the "Lindsay Lohan's Beach club is "the best show ever."
While Cyrus and Lohan are praising each other on social media, other celebrities are having a harder time keeping the fan's impressed. 
Some of those celebrities included Maroon Five, Travis Scott and Big Boi, who performed during half time at the Super Bowl. 
Their performance didn't quite hit the mark with fans. Even basketball player  LeBron James took to Twitter and asked: 
"Soooooooo...... This halftime show though. That's all for Travis or nah?!?!?!"
Larry King said he "wished [he] understood the lyrics," while Stephen Amell added: "He's lip syncing. All good, but disappointing in person."
Wardrobe malfunction in the midst of the worst halftime show during the lousiest #StuporBowl in history pic.twitter.com/XjB361MHse

— Sandra Bernhard (@SandraBernhard) February 4, 2019
Comedian and actress Sandra Bernhard even went so far as to call it the "worst halftime show during the lousiest [StuporBowl] in history."
Another user pointed out that it was "messed up that society found it acceptable for [Adam Levine] to be shirtless during half time" while Janet Jackson was chastised when she accidentally exposed a nipple during her performance a few years ago.