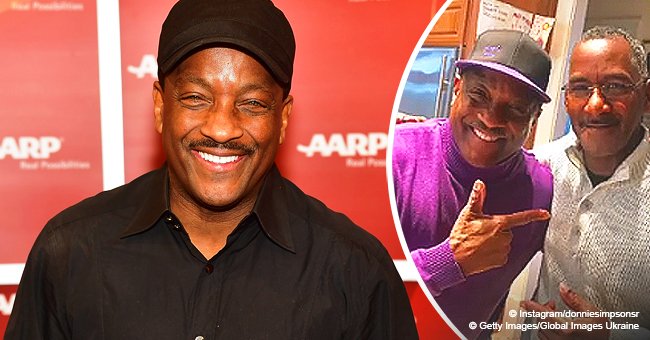 Remember Donnie Simpson? He shared tribute to his rarely-seen twin brother on their 65th birthday
Radio and TV personality, Donnie Simpson, recently celebrated his 65th birthday with a heartfelt post that focused on celebrating the life of his twin brother instead. Although he has been in the industry for over 40 years, people still get surprised to find out he has a twin brother.
Donnie Simpson has been entertaining people with his deep voice and enchanting women with his green eyes for almost 50 years, and still, some of his fans ignore some facts about his personal life, since he prefers to keep his family out of the spotlight for the most part.
The "Video Soul" host took to Instagram to share a beautiful tribute for his twin brother, Lonnie, on their 65th birthday last January 30.
Donnie shared an animated clip of a layered cake with lit candles, and two pictures with his brother: one from their childhood, in which they were wearing matching striped shirts and overalls, and o recent one, in which Lonnie wore a black shirt and Donnie a purple sweater.
"I'm not the kind of guy who shouts from the mountaintops "It's my Birthday." I've had so many of them now, I'd rather they go by quietly," Donnie started the caption of his post.
He continued by stating that his phone had been ringing "off the hook" all morning, going into a mini rant/joke about the need of a new phrase about phones ringing, because "No one's phone is on a hook anymore."
And continued:
"Anyway, I do Love that so many people wish me and Lonnie a Happy Birthday. He's the dude I came here with. I've known him longer than I've known my mother. So to avoid sounding like I'm giving myself a shoutout from the mountaintops, I want to say, Happy Birthday Lonnie!!

You're the nicest person I know and the best partner anyone could have on a journey through life."
Fans of the veteran DJ took over his comment section to wish him and Lonnie a happy birthday, and many also expressed their surprise after discovering he has an identical brother.
"Happy Belated Birthday!!! Never knew you were a twin," wrote one clueless fan. And another added, "Never knew there were two of 'em!! Happy Birthday, Sirs!!"
Unlike Donnie, Lonnie Simmons prefers to live his life out of the spotlight. And although they may have shared the womb, the men couldn't be more different. While Donnie makes a living out of sharing celebrity and worldwide news, Lonnie is a preacher.
"My twin brother Lonnie is the greatest person I have ever met! Any situation he faces gives him one way to react. That book [the Bible] gives my brother the preacher the answer," Donnie said once of his other half.
Donnie is a man of family and has been married for 45 years to Pamela Gibson. They have two kids: son Donnie Jr. and daughter Dawn, who have blessed Simpson with several grandchildren.
Please fill in your e-mail so we can share with you our top stories!