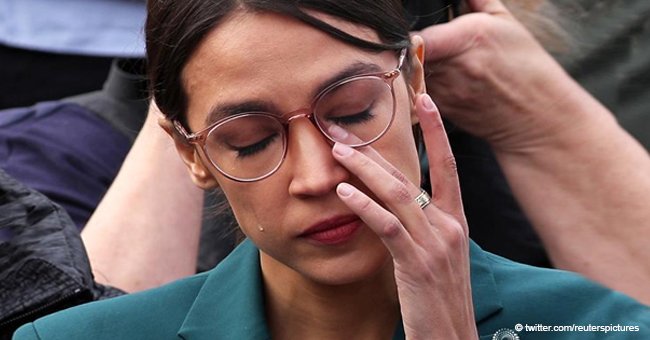 Ocasio-Cortez can't hold back tears saying 'the President doesn't like any form of immigration'
On Thursday, Rep. Alexandria Ocasio-Cortez attended a press conference that was held by a liberal group to protest taxpayer dollars that are used for Immigration and Customs Enforcement. While speaking she got quite emotional.
In her speech, she claimed the president hated Latino people whom she felt were all descendants of America.
Rep. Alexandria Ocasio-Cortez, 29, attended a news conference held by MoveOn.org. The event was hosted outside Capitol Hill in Washington D.C.
The New York lawmaker, who self-identifies as a democratic socialist, was seen wiping away tears after referring to the death of a migrant child, Jakelin Caal Maquin, 7, to demand an end to funding for the nation's border agency.
The little girl died last December after her father brought her and 160 other illegal immigrants across the southern US border into New Mexico. The congresswoman spoke against the US Immigration and Customs Enforcement (ICE).
She vowed to defund ICE completely and claimed Latinos should be exempt from criminal proceedings and immigration laws because they were descended from Mesoamerican cultures that came before the US.
The congresswoman said:
"We are standing on native land. And Latino people are descendants of native people. And we cannot be told, and criminalized, simply because of our identity or our status. Period."
She added:
"Not only will we not agree to fund [ICE], but we are here to say that an agency like ICE, which repeatedly and systematically violates human rights, does not deserve a dime."
Ocasio-Cortez continued:
"Until they can prove that they are honoring human rights, until they can make a good-faith effort to expand and embrace immigrants, the immigrants in this nation that have always been a part, and have always been a core element of American democracy, until they can prove good faith to an American ideal they do not deserve any resources for their radical agenda."
The congresswoman insisted that shutting down ICE was "one of the more urgent moral issues and crises that we have in America right now." She stated that although President Donald Trump had said otherwise at the State of the Union (SOTU) address on Tuesday, he "does not like any form of immigration."
At the SOTU, Trump said:
"Legal immigrants enrich our nation and strengthen our society in countless ways. I want people to come into our country, but they have to come in legally."
On Twitter, Republican National Committee Chairwoman Ronna McDaniel lashed out at Ocasio-Cortez after Thursday's event.
She wrote:
"Last year, ICE removed a Nazi from Alexandria Ocasio-Cortez's district. Her response: Abolish ICE. This week, MS-13 murdered someone in her district. Her response: Abolish ICE. AOC's calls aren't just endangering her community, they're endangering the entire country."
During her speech Ocasio-Cortez insisted:
"I will not make a political compromise so that just a few kids less die. I will not make a compromise so that we deport – unjustly deport – just a few less. No. We will stop these practices altogether and we will not stop until they are ceased and fully held accountable."
When the crowd started clapping, she added with a smile, "Thank you. I'm mad, y'all. I'm mad. I am mad!" The event was also attended by fellow new Democratic congresswomen Ayanna Pressley, Rashida Tlaib, and Ilhan Omar.
During her speech, Omar, one of the first two Muslims to be elected to Congress, quoted Somali poet Warsan Shire. She recited, "No one leaves for the mouth of the shark, unless the mouth of the shark is safer than home."
The congresswoman used the quote to explain why migrants walked 2,500 miles from Central America all the way to the US. Ocasio-Cortez wasn't the only one who was touched by the initiative.
Tlaib, the other Muslim in the House of Representatives, also cried at the event. During the SOTU address, Ocasio-Cortez and the other three congresswomen wore lapel badges bearing Maquin's face.
Ocasio-Cortez was unapologetic about showing no support for the president during the SOTU. A number of conservatives attacked her on Twitter for her stone-faced look.
One such person was "Wall Street Journal" columnist Peggy Noonan who called it a "rare bad moment" for the congresswoman who looked "not spirited, warm and original as usual but sullen, teenaged and at a loss."
Ocasio-Cortez responded via Twitter calling the SOTU an "embarrassment."
Please fill in your e-mail so we can share with you our top stories!