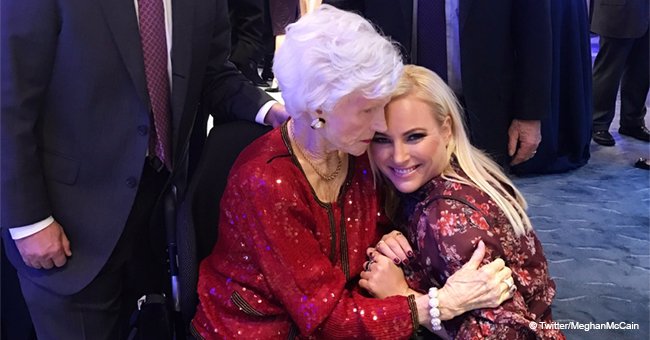 'American treasure': Meghan McCain shares throwback photo of her grandma as she turns 107

The McCain matriarch, Roberta turned 107 on Thursday while granddaughter Meghan posted a sweet throwback picture with a beautiful tribute in her honor.
Meghan paid tribute to her grandmother on Twitter and Instagram, where she wished her a happy birthday.
The talk show host included a photo of them as they hugged while accompanied by the late Senator John McCain, and Senator Lindsey Graham. Meghan noted that 107-year old Roberta is "the epitome of strength and grace," in the touching post:
The late Senator John McCain was Roberta's middle child of three, and father to Meghan. After a battle with brain cancer, John died on August 25, 2018, aged 81. "Faith of My Fathers," Senator John's memoir, described Roberta as an "extroverted and irrepressible woman."
On Thursday's episode of "The View," which Meghan co-hosts, she excitedly spoke of attending her grandmother's birthday party in Washington D.C. over the weekend.
Roberta, known for always being stylish, made a guest on the show, Ana Navarro curiously asked Meghan whether Roberta ever had "a hair out of place," to which Meghan replied, "No, she sleeps in Chanel."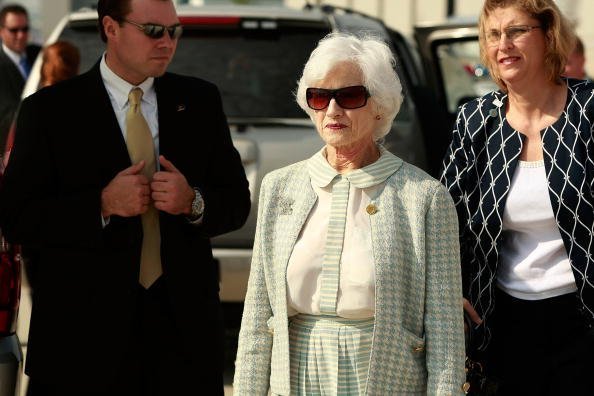 Roberta McCain in Philadelphia, Pennsylvanie on October 16, 2008.| Photo: Getty Images
But Roberta has seen many things during her life, after all, she was born before the Titanic sank and lived through World War I, World War II and the Vietnam war.
Shortly before Meghan's wedding in November 2017, she spoke with PEOPLE, and the subject of her grandmother and her grand age came about, to which Meghan said:
"The thing is [she] is 105 and still alive and well — my grandma Roberta. This sounds arrogant, but it never even occurred to me that I wouldn't live to be 105 and that all the people in my family wouldn't live to be 105 because we have this really intensely weird DNA of strong people who live forever."
A close friend to Roberta and her son's advisor, Mark Salter took to Twitter to express his birthday wishes:
Greta Van Susteren, journalist, and friend shared a sweet tribute to Roberta on her birthday as she wrote:
"Happy 107th birthday to my best friend Roberta McCain….we have had coffee every week for 15 years (?), and she has charmed me every time..she has traveled the world and is wise and has give me great advice (and she loves me…and I love her)."
While Roberta had grieved the loss of her son Senator John McCain more privately, Meghan had done the opposite. With regular updates and openly public shows of emotion, she often posts about her father, with whom she was very close.
In January, emotions of grief overwhelmed Meghan when she came upon a throwback picture of her with her dad when she was still a little girl.
She captioned the image with a lengthy emotional tribute which she ended with a quote from Asaf Avidan:
"One day we'll be old, and think of all the stories that we could have told."
Please fill in your e-mail so we can share with you our top stories!