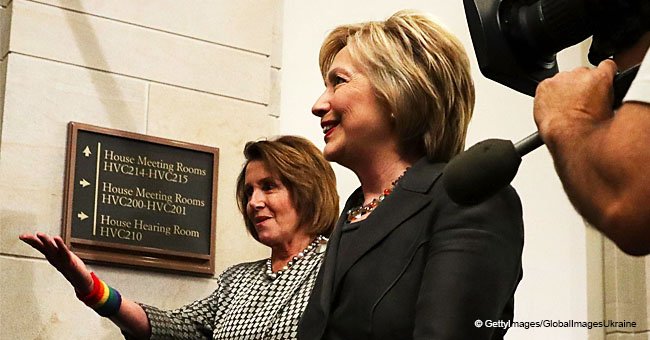 'It takes a woman to get the job done': Hillary Clinton says about Speaker Nancy Pelosi

Hillary Clinton praised House Speaker Nancy Pelosi for "getting the job done," after the State of the Union address.
Former Secretary of State Hillary Clinton has spoken out in praise of fellow Democrat Nancy Pelosi in the aftermath of the February 6, 2019, State of the Union address.
The former First Lady released a video in which she comments on Pelosi and her accomplishments.
"You know the tidal wave of women and young people running for office is helping to build an America that's not only kinder, fairer, bigger hearted, but safer, stronger and more secure."
"IT TAKES A WOMAN"
Clinton, who became famous for her phrase "It takes a village," has now proclaimed:
"It often takes a woman to get the job done."
The Speaker was captured on video clapping pointedly when Trump appealed for unity and cooperation.
GETTING MORE WOMEN INTO POLITICAL OFFICE
Clinton praised Pelosi for inspiring so many women to aspire to political office, at a time when Congress has the greatest number of women representatives in its history.
"I am energized and encouraged by the diverse group of women everywhere who are speaking out. Speaking out against inequality, and bigotry, and racism and homophobia and organizing to create change in their communities and our country — refusing to give in to cynicism or fear."
THE FIRST WOMAN PRESIDENTIAL CANDIDATE
Clinton herself has been a trail-blazer for women with political ambitions. She went from being the First Lady of the US to Secretary of State for the Obama administration and went on to contest the 2016 Presidential elections which she lost to Donald Trump.
CLINTON, PELOSI, AND TRUMP
One thing Clinton and Pelosi have in common is their ongoing political opposition to President Trump.
Pelosi recently saw her reaction to the President's SOTU speech go viral. The Speaker was captured on video clapping pointedly when Trump appealed for unity and cooperation.
The House Speaker, Congress, and the President have been at odds over their refusal to attribute him the $5,7 million he demands for his border-wall project.
The conflict culminated in the longest government shutdown in US history and is yet to be resolved.
FIRST DAUGHTER IVANKA TRUMP REACTS TO MOSCOW DEAL
Ivanka Trump, 37, the daughter of the current President of the United States and a White House advisor has spoken out about the "Moscow Deal" being investigated by Special Counsel Robert Mueller.
"It's not like it's a strange thing, as a hospitality company or a development company, to have a hotel or a property in Russia. We're not talking about Iran. It was Russia. And we weren't even advanced enough that anyone had even visited the prospective project site. So it really was just a non-factor in our minds. I'm not sure that anyone would have thought of it."
Muller was appointed by Deputy Attorney General Rod Rosenstein to serve as special counsel for the United States Department of Justice. in an investigation into a possible connection or collusion between the Russian government and individuals associated with the 2016 campaign of President Donald Trump.
Several members of the President's inner circle are being investigated, and White House officials have been indicted as a result of the ongoing investigation.
In a related story, Nancy Pelosi responded to media about her clapping after Trump's State of the Union address.
Please fill in your e-mail so we can share with you our top stories!