'Criminal Minds' dropped a major bombshell during the final episode
The season finale of "Criminal Minds" on Wednesday night still has fans reeling after a surprising twist.
As far as season finale's go, "Criminal Minds" hit the ball out of the park. Fans were geared up for the final episode titled, "Truth or Dare" in which David Rossi (Joe Mantegna) finally got married.
The series made mention of an "emotional" cliffhanger, but that was a severe understatement. With a case to solve while Rossi prepared to get married, the episode flowed like they always do.
The team had a manipulating criminal to catch, and in the process of going after the man who caused car crashes, Spencer Reid (Matthew Gray Gubler) and J.J. Jareau (A.J. Cook) got captured by the criminal.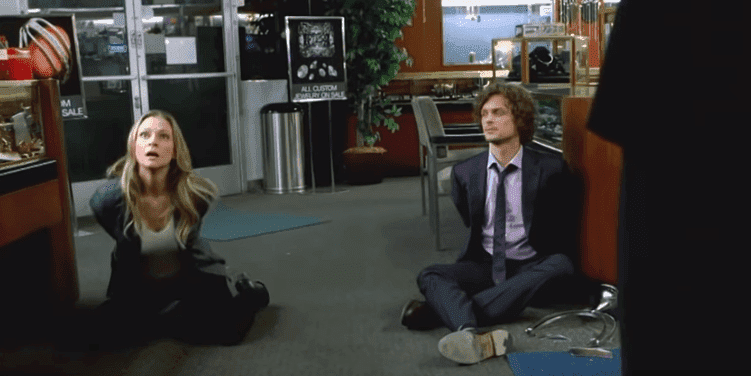 While captured, the criminal forced J.J to confess a secret. And it is at this moment that everything changed. She confessed to Reid that she was in love with him.
Reid eventually got them both untied after he cut himself out of his restraints by using shattered glass. But it wasn't until later, at Rossi's wedding that Reid and J.J. spoke about her confession. 
J.J. explained that she did the best thing she could to throw the criminal off his game and said:
"What I said back there, I needed to say something that would get his attention, and I needed to say something that would get your attention, so I just wanted to throw him off balance."
The look on Reid's face said that he was not convinced, and replied, "Did you mean it?" Fans waited on the edges of their seats in anticipation of J.J. response, but alas, she just gave Reid a lingering gaze, and a reason for fans not to miss the next and final season.
Erica Messer, "Criminal Minds" showrunner told TVLine more about the unexpected twist and spoke of initially being against Reid and J.J. as a couple:
"What's funny about all of this is the pitch came to me from the writer's room, and I'm so 'mother lion' about all of the characters, so my immediate reaction was, 'That's not going to work, they're siblings. No, they're siblings, they're siblings."
But the idea grew on Erica, and so the bombshell got dropped during towards the end of the season finale as Erica continued:
"And so, I just kind of fell more in love with the idea that, yeah, it's messy and it's weird, and 'I've loved you for a long time,' like, that's just the truth. We're going to dive into that in the first two hours [of season 15] because we can't leave everybody hanging and then pretend it didn't happen."
Erica gave no clues as to what could be expected from the 15th season of the much loved criminal drama series, so fans will have to wait until the autumn to find out.
Another popular crime drama, NCIS has fans preparing for "the biggest NCIS secret of all" and has fans wondering whether Ziva David (Cote de Pablo) is going to return to the show.
During the episode titled, "She" set to air on February 12, the team finds a malnourished and confused 9-year-old girl in a storage unit, the trail leads to Ziva and notes she kept on a particular missing person's case.
Did she say Ziva! The biggest #NCIS secret of all will be revealed on February 12! pic.twitter.com/pRcrk3dGVv

— NCIS (@NCIS_CBS) February 4, 2019
However when Ziva left the show, the team found out she had a daughter and that she died during an attack, but her remains were never found. It seems like NCIS fans will have to wait until next week to find out for sure.
Fans of NCIS can look forward to some more magic; however, when the "Criminal Minds" show announced the explosive episode with Reid and J.J. would be the last episode of season 14, they also announced that season 15 would be the shows last. And fans had a lot to say.