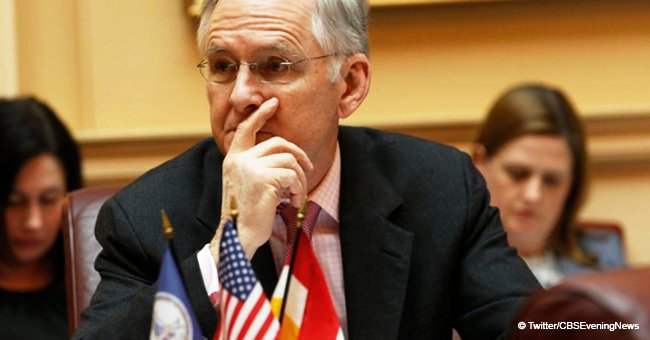 Another Virginia politician faces blackface scandal as his 1968 college yearbook is unearthed

The Virginia blackface scandal has unearthed yet another offender. This time powerful Republican majority leader in the Virginia Senate was outed as the editor of a racially offensive 1968 college yearbook.
According to recent reports, Thomas K. Norment Jr. was the top editor of a 1968 college yearbook. The controversial yearbook contained several photographs of students in blackface as well as racist slurs.
Mr. Norment, 72 is a long-standing member and political broker in the State Legislature. He is the first Republican to be caught up in Virginia's ongoing political crisis over racist behavior in the past.
The Virginian-Pilot newspaper first reported on the photos and material. Norment had attended Virginia Military Institute.
In his senior year, Norment was managing editor of the 1968 edition of the Bomb yearbook. Under his guidance, the finished product showed off students in blackface.
The book also contained multiple racial slurs against African-Americans, Asians, and Jews. Norment released an official statement on Thursday, saying,
"The use of blackface is abhorrent in our society and I emphatically condemn it." He said he was part of a seven-member team at the Bomb, "a 359-page yearbook," and added, "I cannot endorse or associate myself with every photo, entry, or word on each page."
He went on to point out that he did not appear in the offensive pictures. He also added that he did not take any of the images.
The resurfaced images appeared in the midst of two Virginia leaders, Gov. Ralph Northam, and Attorney General Mark Herring acknowledging they had each worn blackface as young men. The admissions by the two Democrats plunged Virginia into turmoil.
Calls for their resignations were immediately raised. As their debacle unfolded, a high school photo of Republican state Rep. Anthony Sabatini also resurfaced for a second time.
The image had first circulated during his election. Once again it became the source of controversy after Florida Democratic Chair Terry Rizzo extended the resignation call to include Sabatini.
However, Sabatini denied the photo was racist. He insisted the pic had been "decontextualized" insisting he was simply dressed up as his friend.
Please fill in your e-mail so we can share with you our top stories!