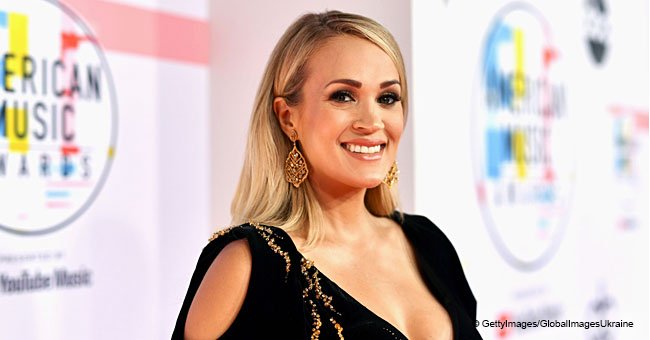 Carrie Underwood looks stunning in a new photo just two weeks after giving birth

Carrie Underwood shines yet again as she posts a photo of herself and husband Mike Fisher on Instagram two weeks after delivery.
There are two types of "mothers;" the ones who take their time adjusting into motherhood and those blessed with the ability to blend and move on quickly. Country music singer and songwriter, Carrie Underwood happens to be among the class of women whom motherhood doesn't leave a mark.
The beauty gave birth to her second son only two weeks ago, and she already looks as radiant as ever. Underwood recently shared a picture of herself with her husband Mike Fisher; all set for the End It movement. Fisher had first shared the lovely image of the duo in matching black baseball hats, flashing happy smiles as they were about to go in support of the End It campaign; an organization which aims to eradicate slavery.
The new parents also had big X's inscribed on their hands, in red.
"We are #inittoendit. Join us in raising our voices to fight against modern-day slavery!" -Fisher had captioned.
Underwood reposted her husband's post on her page with the caption;
"@mfisher and I are #InItToEndIt to shine a light on modern-day slavery…@enditmovement."
The last significant time the songstress posted on her page was January 23 when she shared three different pictures of the family holding her new baby. This post with her husband is a pleasant comeback; making it hard to tell she is a mother of two.
With the newborn, Underwood now has someone else to share her affinity. Before now, Isaac, three has been the center of his mom's attraction. The doting mom and her hubby publicly gush over the cute little boy; frequently putting him up on their page. Recently, Mike shared a photo bonding with his son over hockey and ice-skating. The pic shows the cute boy in a hockey uniform skating on ice.
"Look ma no hands," Fisher had captioned.
Momma sure would be proud her son was following after his pop's footsteps at such a young age. Mike Fisher is a retired professional hockey player; having his son do the same must be an exquisite feeling.
Please fill in your e-mail so we can share with you our top stories!