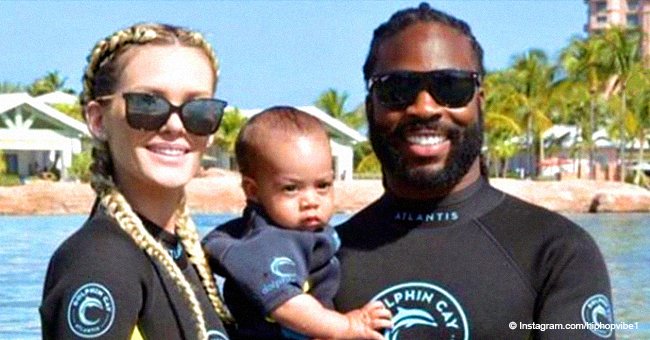 NFL player Jahleel Addae & fiancée spark outrage for making a toast to 'more light-skinned kids'
NFL player Jahleel Addae and his fiancee Lindsey Nelson are under fire for making a toast to "more light-skinned kids".
Los Angeles Chargers safety Jahleel Addae and his fiance, Lindsey Nelson, have upset many people after a video of them toasting to "more light-skinned kids" went viral. Posting it on Instagram Story, Lindsey showed Jahleel holding their son Zion as the couple and their friends gave a toast to having light-skinned kids.
"Cheers to more light-skinned kids," they said all together. Social media users were not pleased by this toast, and have expressed their anger and disappointment on Twitter.
While people were concerned about what they were toasting about, they also noted the fact that it seems his girlfriend only loves him for his money, as she is wishing for their children not to be black.
People also slammed Jahleel and called him "insecure," wondering why it seemed he didn't value himself and hated his own skin color.
Lindsey gave birth to their first child, Zion Kweku Addae, on April 11, 2018.
While Jahleel and Lindsey are parents who wish to have as many "light-skinned" children as they can, another couple was accused of having affairs when they became parents to albino children. The couple revealed that strangers would ask why they had light-skinned children when both of them were black, hinting that they got into other relationships because of it.
Christin and Russell Lewis shared how affected they are when strangers make side-comments about their children, without realizing that they were born albino.
Nolan and Savannah were born white, but not because of their genes. However, people often think of them as a white pair of twins without knowing the real story behind their color, and the parents have received absurd comments because of this.
"People think that I cheated on my husband to have white babies."
Sick of all the comments they've been hearing, they made it clear once and for all that they've been loyal to one another since the start.
"I want to make a public service announcement: we are faithful, we did not cheat on each other, and we did not use surrogates,' she said. 'I carried these babies for nine months.'"
Please fill in your e-mail so we can share with you our top stories!