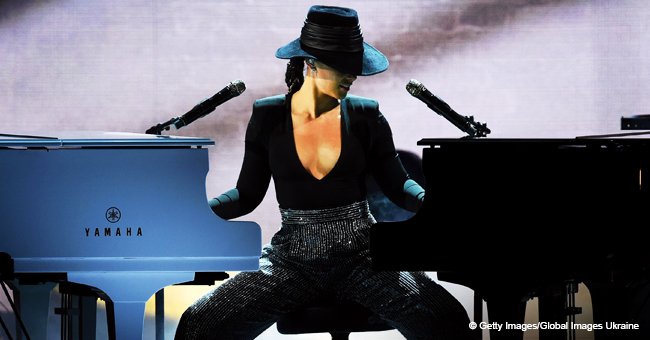 Alicia Keys was the 'perfect' Grammys host and even showed off by playing 2 pianos at once
Alicia Keys stunned fans with a jaw-dropping performance while being the "perfect" Grammy's host. She showed off her skills by playing two pianos at once.
As host of the Grammys on Sunday night, Alicia Keys transported viewers into a surreal world. She is the first female host of the show in 14 years.
The last woman to host was Queen Latifah in 2005. Keys ensured her performance on the night matched the momentous occasion and blew fans away.
"I think @aliciakeys was one of my favorite parts of the #GrammyAwards the most perfect, genuine & gracious host," tweeted musician Leona Lewis.
The 15-time Grammy winner made sure to make the night memorable. One of her many surprises on the night included her flexing her musical prowess and dazzling the audience with a stunning performance.
Not only did Keys perform a series of songs ranging from Lauryn Hill's "Doo Wop (That Thing)" to Roberta Flack's "Killing Me Softly With His Song" to Kings of Leon's "Use Somebody" she did it while flanked by two pianos. At one point during her medley, she blew fans away when she played on both pianos at the same time.
"Music is just, you know, those songs that just live inside of you. It lives inside of me. And you just love it so much because it was done so well that you wish you wrote it. That's how I feel about these songs. I wish I wrote them," she said.
Keys opened the show with some help from Lady Gaga, Jennifer Lopez, Jada Pinkett Smith, and Michelle Obama. She later said the night was about celebrating "the greatness in each other."
Fans took to social media to celebrate Keys and the amazing performance she put on. The internet was flooded with glowing reviews from fans.
Chef Bobby Flay tweeted, "I vote for @aliciakeys to host every award show no matter what it is .. she killed it @RecordingAcad #Grammys2019"
Meghan McCain reiterated his ideas tweeting,
"Alicia Keys needs to host everything, everywhere from here on out.... we're all in agreement on this, right? #GrammyAwards2019"
Besides Keys, Cardi B also broke through the glass barrier. She became the first ever solo woman to win a Grammy for the best rap album.
Please fill in your e-mail so we can share with you our top stories!