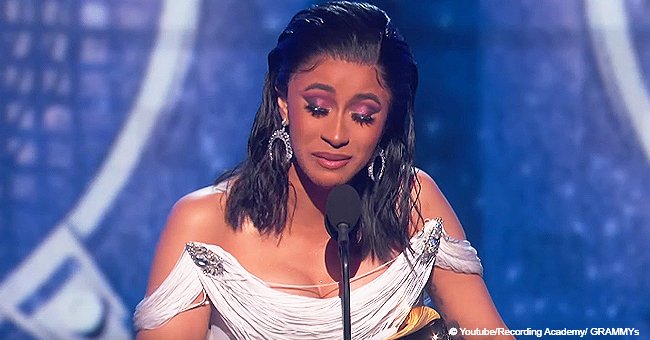 Cardi B almost in tears as she becomes first ever solo woman to win Grammy for best rap album

Yesterday was an extraordinary night for rapper Cardi B as she became the first solo female rapper ever to win the Grammy Award for Best Rap Album.
Apart from Cardi B's "Invasion of Privacy," the rest of the nominees for the category were Travis Scott's "Astroworld," Mac Miller's "Swimming," Nipsey Hussle's "Victory Lap," and Pusha T's "Daytona."
Right after the duo Chloe x Halle announced that the 26-year-old rapper won, she covered her face and started shaking while saying "Oh my God" and looking at her husband Offset.
HER ACCEPTANCE SPEECH
After sharing a hug, the man accompanied her onstage where she gave a very emotional speech while fighting back the tears and trying to stay as calm as possible. After thanking "everybody that was involved," she talked about her daughter Kulture and the impact she had on the album.
Cardi B pointed out that, when she learned she was pregnant, the album was not even close to being finished as it had only three songs. The rapper realized that she had to work even harder to finish the 13 tunes and even shoot the videos before her belly started noticing.
Even though those were "very long nights," Cardi B managed to get it done just in time and, due to her efforts, she got seven nominations and a Grammy Award.
WHO RUN THE GRAMMYS? GIRLS!
The protagonists of this year's edition of the Grammys were women as they won most of the show's biggest categories. Kacey Musgraves, for instance, took home four awards, including the Album of the Year and Best Country album thanks to "Golden Hour."
Lady Gaga, on the other hand, won three awards, including Best Pop Duo/Group Performance for "Shallow. H.E.R won Best R&B Album and Best R&B Performance. Dua Lipa and Ariana Grande took home one Grammys each. Apart from that, it was also a woman whose live performance attracted more attention: Jennifer Lopez.
SOME OF THE NIGHT'S PERFORMANCES
She did a 60th-anniversary tribute to Motown by singing a medley with some of the most iconic and remembered songs of the record label, including "Dancing Machine," "Dancing in the Street," "Please Mr. Postman," "Money," and "Do You Love Me."
Unfortunately, the fact that it was Jennifer the chosen one to pay tribute to Motown and not somebody else sparked some backlash on social media as people considered that they should have selected someone Black or at least an artist who signed with the label.
Another emotional part of the ceremony was the tribute Dolly Parton got. Kacey Musgraves, Katy Perry, and Miley Cyrus joined her onstage to sing a medley of the 73-year-old artist's greatest hits.
Please fill in your e-mail so we can share with you our top stories!