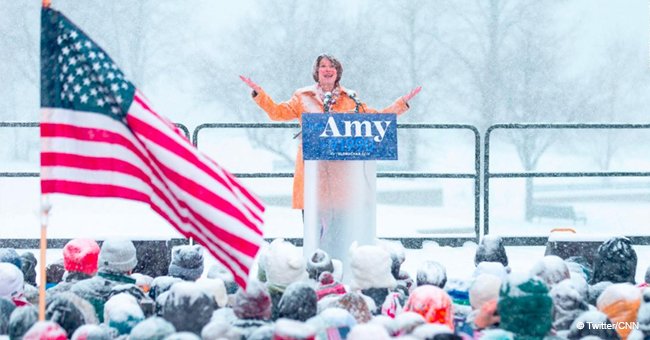 Trump mocks Klobuchar's entry for 2020, but she claps back with a blizzard joke about his hair

Amy Klobuchar was not about to let Trump's mocking tweet about her candidacy slide. She hit back and the internet was highly impressed.
Between the two of them, Klobuchar's comeback to Trump's mockery of the way she announced her candidacy may have left a bigger impression.
Trump took to Twitter on Sunday to make fun of Klobuchar who stood unprotected in a blizzard on Sunday to say she would be running in the 2020 presidential elections.
He wrote:
"Well, it happened again. Amy Klobuchar announced that she is running for President, talking proudly of fighting global warming while standing in a virtual blizzard of snow, ice and freezing temperatures. Bad timing. By the end of her speech she looked like a Snowman(woman)!"
The Minnesota Senator wasted no time with her smart remark:
"Science is on my side, @realDonaldTrump. Looking forward to debating you about climate change (and many other issues). And I wonder how your hair would fare in a blizzard? [snowman emoji]."
Already a point of attack for the president, the memes came rolling in. One person reposted a clip of an instance when Trump's wig went flying in the wind.
Another expressed support for Klobuchar while throwing shade towards Trump's hair. As usual, there was no shortage of clever puns and hilarious reactions.
The 58-year-old is running as a Democrat and already has support from many in her hometown of Minneapolis. They were all out in the snow with some holding signs that read: "Amy for America."
One of the credentials she mentioned in her speech is that she is the first female to be elected to the Senate from Minnesota. Klobuchar is described as "unpretentious" and having a "reasoned demeanor."
She is more centrist leaning, rather than confrontational. However, she's already proven her "grit" through pushing for prescription drug cost-cutting, expansion of voting rights and greater protection online.
She began as a corporate lawyer in her state before becoming chief prosecutor in Minnesota's largest county. She was then elected as senator in 2006 and re-elected every six years thereafter.
Klobuchar follows Kirsten Gillibrand of New York, Kamala Harris of California, Cory Booker of New Jersey, and Elizabeth Warren of Massachusetts for the Democratic presidential nomination.
Meanwhile, in Trump's earlier tweets on Sunday, he deemed himself as the most hardworking president when his schedule covering the period after November's midterm elections was leaked to the public.
The President rebutted the idea that he spends most of his time relaxing by making a full 180-degree claim to the opposite: he probably works harder than all his predecessors.
The leaked schedule showed that Trump spent 297 hours and 15 minutes of the 502 hours and 55 minutes in "Executive Time." Meeting time came up to 77 hours and 5 minutes.
Twitter responded with a slew of criticism towards the President who said:
"When the term Executive Time is used, I am generally working, not relaxing. In fact, I probably work more hours than almost any past President....."
White House Press Secretary Sarah Sanders came to Trump's defense, explaining that Trump has a "different leadership style than his predecessors."
Please fill in your e-mail so we can share with you our top stories!