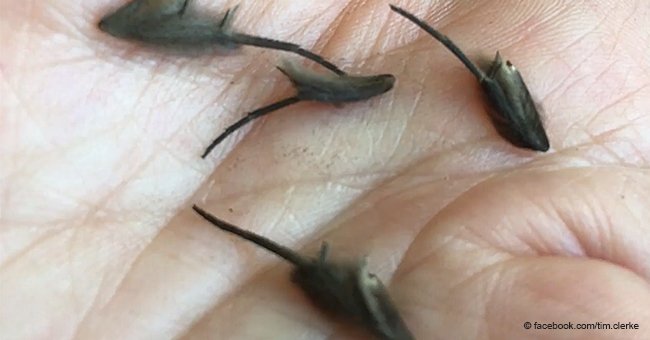 Woman finds mysterious creatures on her kitchen floor and asks on Facebook what they are

The "frightening" alien-like creatures have left many experts puzzled after being discovered in a New Zealand home.
The creatures, which have dark, hairy bodies and tails similar to those of mice, left Tim Clerke worried, after his mother discovered them in his kitchen, in Auckland, New Zealand.
Tim Clerke, 47, published a scary video on social media showing the creatures, hoping someone would help solve the mystery.
But the mystery only became even more enigmatic. Many netizens commented, speculating about the nature and species of the strange creatures, and even the experts were confused.
Tim, who works in advertising, said that "I took a look at them and I knew that I would never dare to touch them, they looked like baby mice with no face or limbs, my wife was physically distressed."
"I've never seen anything like that, so I went to Facebook looking for answers, but they were not very helpful"
Some "thought they were baby rats, others that were rat tail worms, others suggested they were moth legs that had fallen off." However, Tim insists that "my mom does not have a cat, so how did they get there?"
Experts in biology showed the same confusion. Three entomologists at the University of Sydney said they could not confirm the species without an in-person examination.
The species remains unidentified.
And it is not the only case in which a family runs into a strange creature. Recently, a family made an incredible find in the park.
Leslie Howe, a mother from Georgia, discovered a strange insect close to her children at their local playground. She kept her kids away from it, which was a good thing since it turned out to be a venomous caterpillar.
It was lucky enough that Howe's motherly instincts kicked in and made her decide to keep her children away from the bizarre creature she found crawling towards her and her kids.
She was at a park in Gwinnett County, Georgia with her baby and two older children when the incident happened. It was a normal day for the family, but little did Howe know that they luckily escaped what would have been a terrible fate.
Please fill in your e-mail so we can share with you our top stories!