Late George H.W. Bush's service dog – made famous in viral photos – gets a new job
February 12, 2019 | by

Lyra
Sully, the late former President George H.W.Bush's service dog is beginning his new life in Maryland at the end of the month, as the former president's last wish for Sully comes to pass.
Who can forget the iconic photo of Sully? It stirred the hearts of millions as he faithfully slept and stayed next to former President George H. W. Bush, lying in state in the Rotunda of the U.S. Capitol in Washington, D.C.
Now the faithful 2-year-old Labrador will join the veterans at Walter Reed National Military Medical Center at the end of the month. Chip Reid from "CBS This Morning" visited Sully before he left for Maryland.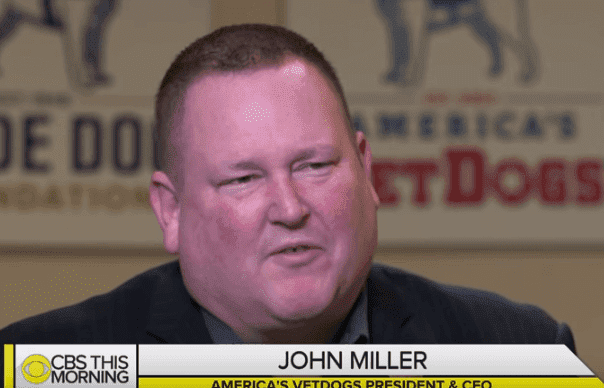 Currently at a training facility on New York's Long Island, Sully is ready to embrace his new role at the Military Medical Center. As Chip spoke with the CEO of America's VetDogs, John Miller, he referred to the iconic picture of Sully and
said
: 
"That photo will forever memorialize their relationship. I'm getting chills right now even thinking about it. I think it was Sully's old soul, so to speak, that really won him over with the president."
Sully's name also had special meaning as he got named after the courageous pilot, Sully Sullenberger. He landed a commercial plane safely on the Hudson River. By doing so, he saved the lives of everyone on board.
VetDogs support first responders and veterans with daily tasks, including offering emotional support to those who have PTSD. 
Former President H.W. Bush was one of the veterans that received help from VetDogs in the form of Sully during the last months of the former president's life. Sully became part of the Bush family in June 2018 and never left his side since.
But now others in need will get to experience Sully's devotion and loyalty, as he will be working along with other VetDogs in assisting wounded soldiers with occupational therapy while they recover, and physical therapy for others military personnel. Shortly after the former president's death, John Miller told WPVI:
"Our thoughts and prayers are with the entire Bush family during this difficult time. It was truly an honor to have provided service dog Sully to be by the president's side for the past several months. As a true patriot and a visionary, President Bush will forever be viewed by people with disabilities and their families as a hero through his efforts to enact the Americans with Disabilities Act. We are forever grateful to his service to the American people."
A video shared on Twitter of Sully as he paid his last respects to former president Bush had many wipe a few tears. Sully performed his final task as he sat next to the 41st President's coffin. 
Sully stayed by the former president's side until he got buried in the George H.W. Bush Presidential Library in College Station, Texas, reunited with his wife Barbara and daughter Robin. And now Sully has a brand new life to look forward to.