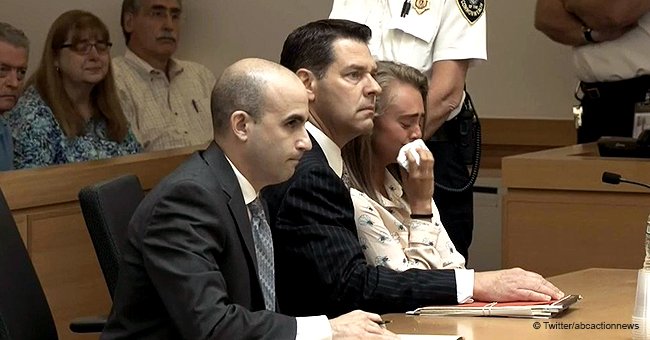 Woman who was 17 when she urged then-boyfriend to commit suicide via texts is heading to jail

Michelle Carter is going to be spending some quality time behind bars for encouraging her ex-boyfriend to commit suicide.
Back in 2017, Michelle Carter was found guilty of involuntary manslaughter. Carter was only 17-years-old when she committed the grievous crime. The young lady had sent texts spurring her then-boyfriend to commit suicide.
According to the judicial decision of a Bristol County judge and the state Supreme Judicial Court, Carter would serve 15 months of her two and a half years sentence. The rest of the months would be suspended.
Carter's tribulations started in 2014 after she doled her late boyfriend, Conrad Roy with negatively motivating words to take his own life even when though Michelle claimed she didn't see it coming.
As gathered from ABC News, Carter urged Roy to follow through with his plans to take his life using carbon monoxide poisoning via a series of text messages. Boston 25 News reported that the texts were later recovered by Investigators including those that confirmed Michelle Carter's guilt.
Conrad Roy, who was 18 at the time, died of the toxic gas poisoning in his truck where he had locked himself. The Plainville teen probably didn't know what she was getting into at the point. This assumption nevertheless does not excuse the grievous act.
Carter's first conviction was at the Massachusetts local court for being an accomplice to Conrad Roy's suicide when the two were still teenagers. KRVN reported that the then-teenager was granted the freedom to stay out of jail while her state court appeals unfold.
Unfortunately, for the 22-year-old Massachusetts woman, the Supreme Court upheld her conviction. All of Carter's attorney's effort to file an emergency motion for a stay of sentence proved futile. The appeal was denied a few hours before the court hearing which took place on Monday.
Carter's attorneys said the texting suicide "case is legally not over," with intentions to appeal to the Supreme court. Her lawyers believe that the convicted should be protected from prosecution by the First Amendment rights since her messages weren't the direct cause of Roy's death.
Prosecutors argued that the 17-year-old was "reckless" and made Roy kill himself even when "he didn't want to die." While the prosecutor stood their ground on the claims that Carter played a significant role in Roy's death, the defense argued that she had once tried to dissuade Roy from hurting himself.
Please fill in your e-mail so we can share with you our top stories!