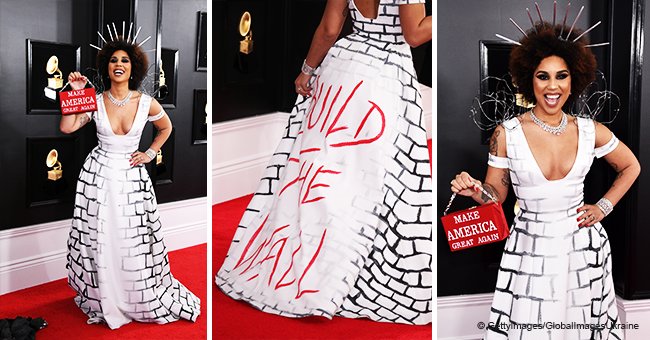 Designer of controversial 'build the wall' dress shares proud thoughts about her work

The designer who made the controversial dress worn by artist, Joy Villa at this year's Grammys shared how proud she is of her beautiful work.
Joy Villa turned heads on this year's Grammy's red carpet event. The attention wasn't drawn about her beauty which was glaring, but for the political statement she made with the outfit.
The musician showed up in a brick-print dress that was a representation of President Donald Trump's "Build the Wall" slogan. On the back of the dress in red, there was the infamous Trump's chant "Build the Wall."
Villa complemented the dress with silver colored jewelry and a purse that read "Make America Great Again." While the attire was beautiful, many have expressed displeasure towards the politically-inclined star and her dress, of course; they won't accept her support of the Republican president.
Although the dress garnered a lot of criticism; Desi Ainger of Desi Designs Couture, who made the gown opened up to Insider about how proud she is of her creation.
"I am very proud of my work, I was able to create the vision my client wanted. It's OK to not agree or like everyone's work, but what is important is to respect," Desi Ainger.
This year's Grammy Awards isn't Villa's first time pulling off such a controversial dress, she is well known for frequently making political statements and paying tribute to Trump on red carpets. Last year, she attended the annual Grammy award event in a dress that screamed "anti-abortion." Now, everyone knows Trump has ardently kicked against abortion from day one, and the President still goes off about how unreasonable he thinks the act is.
In 2017, Villa went over the edge donning a "Make America Great Again" dress with the word "Trump" inscribed on the dress' train in sparkles. Of course, every one of these political moments come with their own set of criticism, but the actress is undaunted.
"I'm part, Latina. I'm black, and I believe what the president's saying," she told The Los Angeles Times on Sunday.
Please fill in your e-mail so we can share with you our top stories!