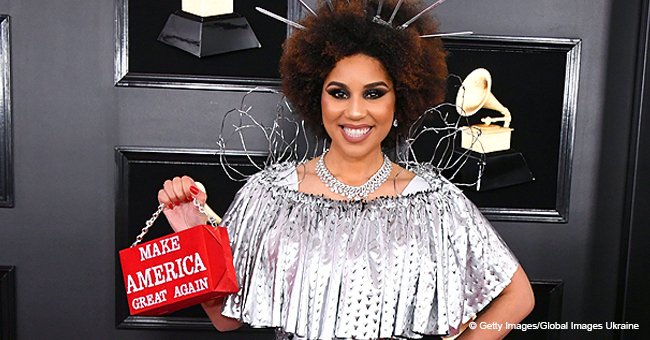 Joy Villa pays tribute to Trump by wearing 'build the wall' dress and 'MAGA' purse for the Grammys
Joy Villa once again declared her stand on President Donald Trump with her outfit to the Grammy Awards that held on Sunday. The singer has also since fired back at critics of her wardrobe choice.
For most folks, the Grammys exist for the celebration of artistic excellence, but just like the past two consecutive years, Villa used the occasion to air her political views and restate her support for Trump and his policies.
Villa appeared on the red carpet wearing a floor-length metallic cape that looked harmless. She paired the outfit with dramatic accessories, including a spike-shaped headband and a barbed wire across her shoulder. Villa also carried a red "Make America Great Again" purse.
"I don't care what anyone thinks."
Moments after she got onto the red carpet, however, the outspoken Conservative ripped off the cape, revealing what was, in fact, the real message.
Villa's off-the-shoulder, low-cut gown was fashioned after the president's controversial wall, and just in case anyone was still confused, across the back of the dress, in bold, red letters, were the words:
"BUILD THE WALL"
Despite facing backlash over the outfit, Villa continues to defend her choice. "This is what I believe in. I believe in the President," she told Variety in an interview. "I just released an album called Home Sweet Home, and it's all about my love for America, barbed wire, I'm having fun with it."
Villa further justified her views in a lengthy Instagram post:
"Shut up!" They said. "Stop talking politics!" They yelled. "Sit down you don't matter!" They insisted. I don't listen to haters. I listen to truth. Building the wall will cut down crime, protect children from being trafficked and stop the 1 in 3 women from being sexually assaulted [trying] to get through illegally. It's a humanitarian crisis. I support life. I support protection. I SUPPORT THE WALL!"
Following the widespread criticism she received on social media, Villa fired off a response of her own on Twitter, telling her critics she does not care what they think.
"I don't care what anyone thinks. I 100% support the wall & our President @realDonaldTrump," she stressed. "Do you want more drugs brought in? (70% of heroin from Mexico) More illegal women getting sexually assaulted (1 in 3)? More children being trafficked? (Thousands a year) because I DO NOT!"
Villa is no stranger to getting slammed over her controversial political outfits. In 2017, she wore a red, white, and blue "Make America Great Again" gown with the president's name embossed across the back.
Last year also, Villa appeared on the Grammys red carpet in a rainbow-colored anti-abortion dress and a purse that said "Choose Life."
Please fill in your e-mail so we can share with you our top stories!