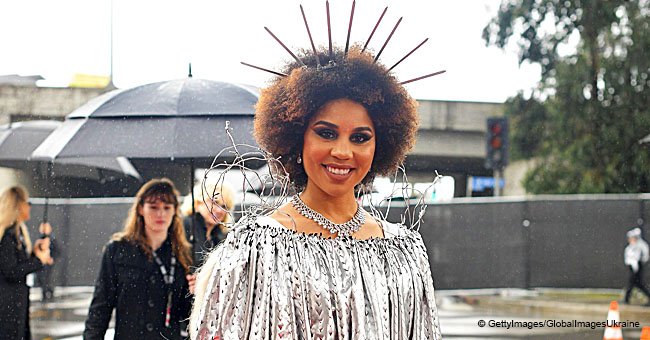 'I don't care what anyone thinks': 'Build the wall' dress wearer responds to haters
Singer Joy Villa hit back at critics of her "Build the Wall" dress that captured the attention of many on Sunday night.
The 27-year-old is unfazed by those who attacked her for the controversial ensemble at the recent Grammy Awards. She took to Twitter to respond. The post featuring the front and back of the dress is found below.
On Sunday, Villa wore a white dress with black paint outlining bricks to represent the border wall. At the back of it were large red letters which read: "Build The Wall."
People came out in droves to condemn the political statement Villa chose to make on the red carpet. When Villa responded, people again gave their opinion, or simply dismissed her.
She wrote:
"I don't care what anyone thinks. I 100% support the wall & our President @realDonaldTrump."
She continued:
"Do you want more drugs brought in? (70% of heroin from Mexico) More illegal women getting sexually assaulted (1 in 3)? More children being trafficked? (Thousands a year) because I DO NOT!"
Villa also chose to accessorize with silver chainmail jewelry and a red handbag that read "Make America Great Again." Towards the top of her dress was barbed wire and on her head was a spiked headband.
Last year, Villa made another statement as she wore a white dress with a red fetus painted on it. Colored circles surrounded the image, representing Villa's anti-abortion stance.
In 2017, Villa was quite bold as she wore Trump's slogan for the presidential campaign on the train of a blue backless dress. "Make America Great Again" was plastered onto the dress designed by an immigrant named Andre Soriano.
Regarding Villa's choice to showcase her political beliefs on the red carpet, she told THR:
"I grew up in theater, so I've always used costume as a way to express myself. It's an opportunity to show the world who I am on the red carpet, which to me is the same as a stage. I approach it as a show."
In another Twitter post, Villa encouraged the "silent majority to stand up and take a strong and positive position on our Border Security!"
Please fill in your e-mail so we can share with you our top stories!