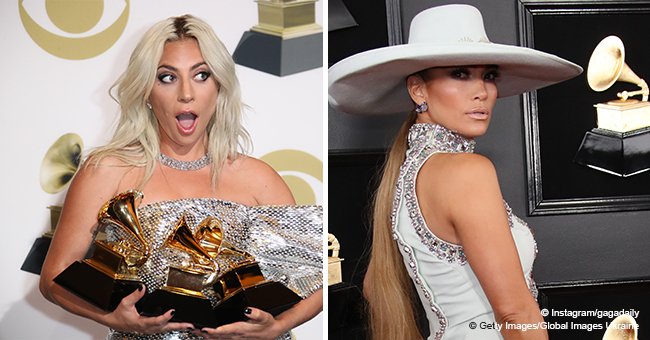 Lady Gaga and J. Lo wear the same heels at Grammy Awards and almost kiss each other on camera

What a lovely coincidence; two beautiful stars appeared at the Grammys with the same pair of shoes. Could it have been planned?
Singer, Lady Gaga who recently revealed that she is more than just a singer with her appearance in the movie, A Star Is Born met with the beautiful Jennifer Lopez on the red carpet. And alas, they both had on the same pair of sandals.
Although they had meticulously shopped for the best of the best outfits to wear to the prestigious event, the two seemed to have the same taste when it comes to fashion.
Jennifer had on a Ralph & Russo white gown which accentuated her figure while Gaga opted for a silver Celine gown. Both women complemented their looks with the same pair of Jimmy Choo "Max" platform sandals.
With incredible performances from the duo, and Gaga's coded but loud message to Trump through her performance; what caught a lot of people's attention was the fact that they both had on the same shoes. Not only did this coincidence get everyone surprised, Gaga and J.Lo were also mesmerized at the turnout; great minds think alike right.
They made sure to take a couple of pictures together on the carpet, and at some point were caught in a cute moment of tongue kissing.
This year's Grammy Awards was one of the best yet; awards were well deserved, and new and old faces got celebrated. Singer Kacey Musgraves won four awards; Cardi B made a Grammy history, and tribute was paid to music icon, Dolly Parton.
Also this time, the show was hosted by Alicia Keys who isn't a comedian and was entirely herself on stage; although she did an excellent job bringing the show to life. In general, the award showed everyone how much it had stepped up and how different it was from what was considered the norm.
Please fill in your e-mail so we can share with you our top stories!