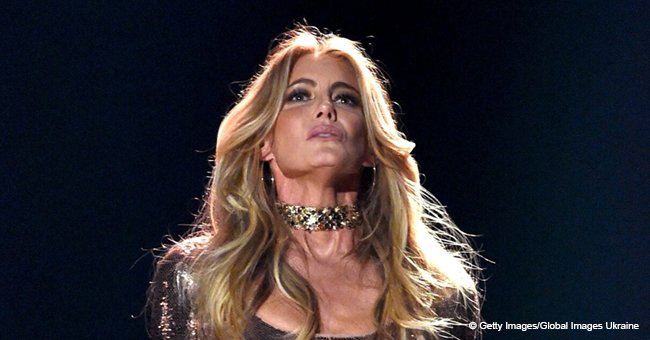 Faith Hill's father Ted Perry dies at 88

Faith Hill's father died last week according to her husband who posted a touching tribute to his social media.
Tim McGraw revealed on Twitter and Instagram that Ted Perry passed away at the age of 88. He posted a video montage of Perry and his family with touching background music.
The Clarion-Ledger confirmed he died on February 5 at Williamson Medical Center of Franklin, Tennessee. McGraw, 51, wrote that Perry was "the sweetest, kindest, most gentle man I've ever known..."
He added:
"No man in my life has ever made such an impact on me as to how to be a human, a father and a friend. I'll never, in 10 lifetimes, be able to live up to his example, but man, he has set a mark that all of us should strive for."
The post was shared on Tuesday and received tons of condolence messages as fans showered love and support towards both Hill and her husband.
McGraw went on to say:
"His legacy will live on through the 3 beautiful souls he raised, Faith and her brothers, Steve and Wesley... I'm sure a day will not pass for the rest of my life, that he will not show up in my thoughts. We all love you G Pa"
While Hill, 51, has not spoken about her father's death, towards the end of her husband's montage she is heard saying:
"Anyone who has ever met my dad would tell you he is one of the greatest human beings on the planet and he is so innocent."
The "This Kiss" singer was adopted by Perry and his wife Edna who died three years ago in 2016. Despite her circumstances, Hill said she had a "pretty amazing childhood" when interviewed in 2006.
At the time, she told Larry King:
"I was adopted...but my family, my mom and my dad and my brothers, they are amazing, very stable, good Christian, God-fearing home, and a great small town of Star, Mississippi. I actually had a really stable childhood."
The family and friends will attend a funeral service and a private burial for their deceased loved one. Perry is survived by Hill and her two brothers.
Hill and McGraw got married in 1996 and now have three children. Hill works as a judge on "The World's Best," a brand new talent show which premiered on CBS last week.
Between the couple's three children, their middle daughter Maggie most closely resembles her mother. The two share the same height, build, and long blonde hair.
Additionally, Maggie's facial structure and smile seem to be a reflection of her beautiful mother's own. The now 20-year-old is interested in free diving and marine biology.
Surely, Maggie and her sisters are also mourning the loss of their beloved grandfather. We hope that their grief is not too overbearing and send our condolences to the entire family.
Please fill in your e-mail so we can share with you our top stories!