Khloé Kardashian shares photos of True wearing cashmere Burberry dress on her 10-month birthday
TV personality Khloé Kardashian, best known for "Keeping Up with the Kardashians," took to Instagram to share a slideshow of her daughter on her 10-month birthday.
In the first image, True appeared sitting on a mattress wearing beige construction boots, pink socks, a cashmere, pink, Burberry dress, and a beanie hat. The baby's face showed that she was quite entertained by something in front of her.
For the second pic, the girl was standing in front of a bookshelf while flashing a beautiful smirk at the camera. In the caption, the proud Khloé wished her daughter a happy 10-month birthday.
As soon as she uploaded that slideshow, her followers took to the comment section to share their thoughts.
"Omgosh! She is adorable!!! Too cute with her outfit!" [sic] wrote one user.
"That is just the cutest smile Evvverrrrr what a bundle of joy!! Too precious. You are blessed," [sic] admitted a second follower.
"You should be nominated for best stylin baby," [sic] shared another person.
MELTING MORE HEARTS
It is not the first time that True melted the hearts of her mother's followers. Earlier this month, Khloé uploaded another slideshow of the girl, who is considered by many the favorite Kardashian baby, enjoying a day at the beach.
In the shots, True was sitting on the sand and looking quite the fashionista rocking bright pink sunglasses, a matching sweater, and a sparkly pink beaded diaper cover. True mastered the art of looking good at any angle, as she stared off to the sea in the first pic, and happily giggled in the second one.
Before posting those photos, Khloé shared another one promoting her new makeup collection in partnership with Malika Haqq and the brand Becca Cosmetics. It showed True covering her body with a pink towel while wearing a matching silk sleeping mask.
The girl was sitting in a bathroom's sink several makeup-related items (brushes, lipsticks, palettes) were surrounding her. Khloé even joked about it saying that she would share True's makeup tutorial.
True was born on April 12, 2018. His father is NBA player Tristan Thompson, who was caught cheating on Khloé soon before she gave birth. Nowadays, they are still together, and that issue is part of the past.
PLAYING WITH HER NIECE, DREAM
Even though taking care of a baby is difficult already, the Kardashian clan has plenty of babies to look for nowadays, so Khloé has shared photos and videos spending time with all of them.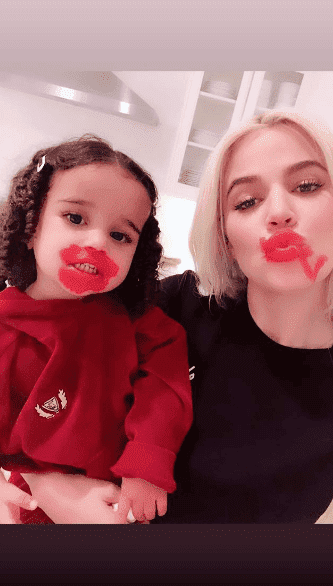 In recent posts on Khloé's Instagram stories, Dream, the daughter of Blac Chyna and Rob Kardashian, appeared generously applying some red lipstick on her and her aunt's face.
When they finished playing with the makeup, they took a photo and shared it, too. It showed both ladies rocking their messy lipstick proud of the great time they had together.