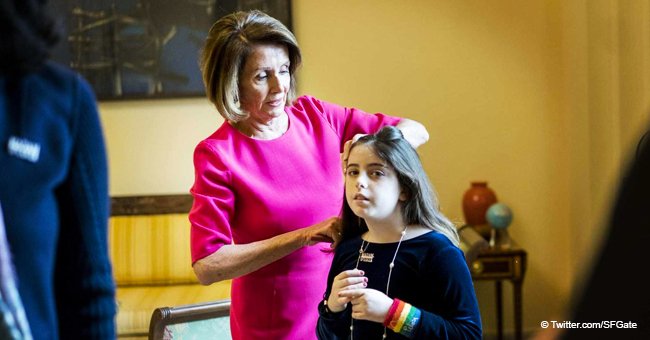 'Makes going to work look easy': Nancy Pelosi's leadership skills learned from being a parent

House Speaker Nancy Pelosi uses the skills she learned as the mother of 5 to work with President Donald Trump.
Nancy Pelosi's daughter, Nancy Corinne Prowda, had a flashback to her childhood while watching her mother address Congress on TV.
She recognized the House Speaker's expression from her many clashes with her mother - clashes she inevitably lost.
"She's used to synchronized chaos. She's used to people wanting to be different and wanting to strive. She's used to competition among people."
PELOSI'S MONUMENTAL CLASHES WITH TRUMP
Pelosi had calmly disinvited Donald Trump from giving his State of the Union address until the government was fully functional again, and the President had canceled a visit she'd scheduled to a war zone.
When a reporter asked Pelosi if she thought Trump was retaliating for her cancelation of the SOTU, she replied:
"I don't think the president would be that petty. Do you?"
It was then that Prowda realized that her mother was using the same tactics she'd learned with her children on the hapless Trump administration.
Christine Pelosi had an eery moment of deja vu while watching President Donald Trump's SOTU address on TV.
BEING A MOTHER OF 5 TAUGHT PELOSI TACTICS
Pelosi didn't set out to become a master political strategist. Educating 5 children demanded it of her.
Pelosi has 4 daughters and 1 son, and keeping the upper hand while maintaining the peace between her warring clan gave her the skills she would one day wield so effectively as House Speaker of a deeply divided Congress.
THE TOUGHEST JOB PELOSI EVER HELD
While becoming the most powerful woman in American history, and the first to be House Speaker, is a huge achievement in any book, it is not Pelosi's crowning glory.
Pelosi has revealed that parenting her brood of 5 was her toughest job, and made being House Speaker a walk in the park by comparison.
PELOSI'S DAUGHTER CHRISTINE REVEALS MOM'S SECRET
Christine Pelosi agrees with her sister. She revealed that her mother's legendary ability to coax warring rivals into a compromise was honed at home, negotiating the peace between her children.
Dee Dee Myers, former press secretary for Bill Clinton and author of "Why Women Should Rule the World," agrees with Christine:
"You learn a lot as a parent and a mother that is directly applicable to leadership. Five kids can be relentless. Having five toddlers or preteens or teenagers — all of which she had — really does prepare you for Donald Trump."
CHRISTINE AND THE SOTU CLAP
Like Prowda, Christine Pelosi had an eery moment of deja vu while watching President Donald Trump's SOTU address on TV.
When the President called for unity, she saw her mother rise to her feet and graciously - and pointedly - clap her approval.
She posted on Twitter:
"Oh yes that clap took me back to the teen years. She knows. And she knows that you know. And frankly she's disappointed that you thought this would work. But here's a clap. #youtriedit"
Pelosi has named her children as the biggest influence in her life:
"I was really forged by my kids. I became so energized and efficient in the use of time and willing to delegate, to the children, responsibilities."
Pelosi used a prime parenting tactic to end the shutdown. The President walked out of a meeting with the House speaker after learning that she still wasn't going to give him money for his wall. Pelosi commented:
"I'm the mother of five, grandmother of nine. I know a temper tantrum when I see one."
Like any canny experienced parent, Pelosi pulled Trump's privileges - access to a prime time audience for his speech. The President relented and ended the shutdown.
Certainly, the Trump administration is still reeling. Another of Pelosi's daughters, Alexandra, revealed her mother's deadly diplomatic skills:
"She'll cut your head off and you won't even know you're bleeding."
One can almost feel sorry for the President. Almost.
KEVIN MCCARTHY CLAIMS PELOSI CAVED ON THE WALL
The House Minority Leader, Republican Kevin McCarthy has declared that Nancy Pelosi and the Democratic contingent has caved in to President Donald Trump's demand for funding for the border wall.
"The Democrats have now agreed to more than 55 miles of new barrier being built."
House Speaker Nancy Pelosi's office responded by pointing out that the amount agreed to for the year's barrier funding is the same as for last year, $1.4 billion.
A far cry from the President's ambitious demand for $5,7 billion.
In a related story, House Speaker Nancy Pelosi pays tribute to late Rep. Walter Jones who contributed to restricting access to abortions.
Please fill in your e-mail so we can share with you our top stories!