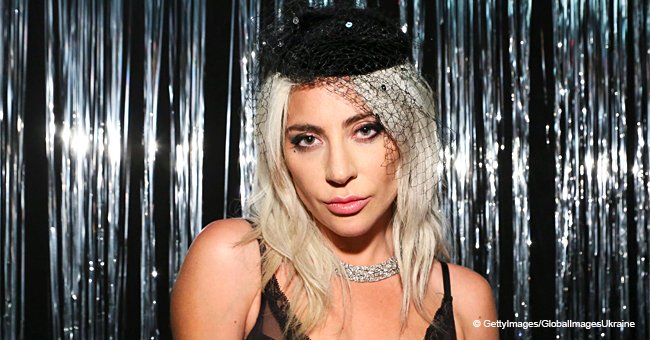 Lady Gaga pulls out all the stops wearing nothing but a black bra and fishnets at an after-party

Lady Gaga sizzles in daring black lingerie at a Grammys after-party.
The 2019 Grammy Awards culminated in a series of after-parties where the winners and nominees cut loose and celebrated.
The hottest party was undoubtedly attended by Lady Gaga, who was celebrating her winning the Grammies for Best Pop Solo Performance for "Joanne," and Best Pop Duo/Group Performance for "Shallow," which she shared with Bradley Cooper.
A TRIUMPHANT EVENING FOR LADY GAGA
The star stepped on to the stage to perform "Shallow" and she was accompanied by British musician Mark Ronson, who filled in for Bradley Cooper.
After the Awards, Lady Gaga accompanied Ronson to his Club Heartbreak Grammy Party, sponsored by Absolut Elyx, where she wowed the revelers with her unusual get-up.
Lady Gaga's silver gown and the after-party outfit were just two of her four dazzling fashion statement for the evening.
LADY GAGA'S AFTER-PARTY OUTFIT RAISED EYEBROWS
The always controversial actress/ singer arrived at the party clad only in sexy black lingerie and fishnet stockings - and a flirty fascinator with a flimsy black veil.
She wore a blingy necklace and her long blond locks tumbling down to her shoulders. The outfit was teamed with a sequined jacket and spiky heels.
LADY GAGA'S AWARDS GOWN WAS DAZZLING
The sensuous get-up she wore for the after party was a departure from the elegant silver gown she had worn to receive the coveted Grammy Awards. Lady Gaga exuded star-glamour in a long asymmetrical silver lamé gown with an extravagant flounce.
FOUR LOOKS IN ONE NIGHT
Lady Gaga's silver gown and the after-party outfit were just two of her four dazzling fashion statement for the evening.
For her performance of "Shallow," the diva wore a jewel-encrusted bodysuit, and afterward, she donned a silver chainmail top, black underwear, fishnet stockings, and platform Giuseppe Zanotti boots.
All bets are off as to what Lady Gaga will be wearing to the Oscars for which she has been nominated for Best Actress for "A Star Is Born", and for Best Original Song, for "Shallow" co-written with Mark Ronson.
LADY GAGA'S PERFORMANCE AT THE GRAMMYS CRITICISED
Fans were startled - and some were disappointed - by the spin Lady Gaga put on the song "Shallow" from her movie "A Star Is Born."
"No disrespect to #LadyGaga bc I think she is a very talented artist and an amazing vocalist. However, my neck literally hurts from watching her throw her head back-and-forth like that. #GRAMMYs"
Lady Gaga performed the song - which in the movie is a duet with Bradley Cooper - as a solo.
In a skin-tight jeweled bodysuit, Lady Gaga gave the song a decidedly glam-rock feel, a far cry from the song's original emotional rendition.
In a related story, Bradley Cooper reveals that he is 'terrified' to sing with Lady Gaga at the Oscars.
Please fill in your e-mail so we can share with you our top stories!