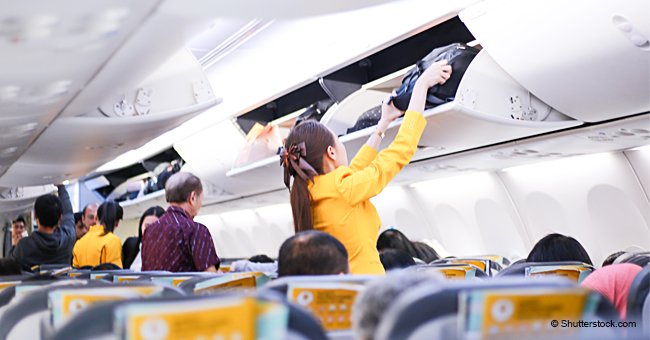 Passenger humiliated after being told to cover her 'inappropriate' crop-top during a flight

A passenger was humiliated for wearing what she was told by a flight attendant was a too-revealing top on a Jetstar airliner.
Jetstar passenger Shoshana Strykert was boarding a plane to visit her mother who was sick in the hospital when she was subjected to humiliation by a flight attendant.
The 28-year-old took to social media with her grievance, and her Facebook post has since gone viral.
"Do you see any men walking around with their shirts off? Do you have a T-shirt you can put on or I will give you a blanket"
HUMILIATED OVER A CROP-TOP
Strykert boarded the airplane wearing a black crop top and beige trousers. Her outfit was casual, but far from revealing.
The flight attendant didn't agree, and immediately demanded that Strykert "cover up" or she would cover her with a blanket.
WOMAN WAS "SLUT-SHAMED" ON THE PLANE
The attendant pointedly asked Strykert if she saw any men with their shirts off, and humiliated her until a fellow passenger lent her a jacket:
"Everybody on the plane was looking at me I was so embarrassed and shocked. A woman sitting behind me, felt sorry for me so she offered me her jacket."
JETSTAR'S STARTLING RESPONSE
Outraged, Strykert contacted Jetstar and related the incident to the company, but their response was not what she expected.
She received a letter announcing that she would be given a $50 voucher to compensate her for the unpleasant experience, but the apology was half hearted.
JETSTAR: "YOU HAVE THE RIGHT TO EXPECT POLITE (...) SERVICE"
Jetstar conceded Strykert had the "right" to expect good service but pointed out that the flight attendants have many duties and are under a lot of pressure:
"You have every right to expect polite, friendly and professional service, whenever you fly with us and I apologize if this was not your experience."
Strykert's exposure of the incident on social media prompted Jetstar to issue a statement:
"We've called Ms. Strykert to better understand the situation and apologize if she felt that she was treated unfairly by our staff. We are investigating what happened to find out if the situation could have been handled differently and have passed Ms. Strykert's feedback to our teams."
Strykert's incident is not the first time Jetstar has come under fire for criticising female passenger's outfits.
5-YEAR-OLD MOCKED BY AIRLINE EMPLOYEE
Traci Redford and her 5-year-old daughter were boarding a Southwest Airlines flight at the John Wayne Airport, in California, on their way home to Texas.
Traci was boarding early because her daughter suffers from epilepsy and was having a bad day, but it was about to get worse.
When she handed their boarding passes to the flight attendant, the woman started to laugh, pointed at the little girl, took out her cell phone and photographed her daughter's boarding pass.
Traci realized that the flight attendant was mocking her daughter's name which is spelled Abcde, though it is pronounced "ab-city."
Traci complained to the company, but Southwest Airlines never confirmed that it had censured the employee. Later, Traci discovered that the woman had posted her daughter's boarding pass on Facebook, subjecting her to general ridicule.
In a related story, the video of a man being aggressive and racist towards a woman aboard an airplane has gone viral.
Please fill in your e-mail so we can share with you our top stories!