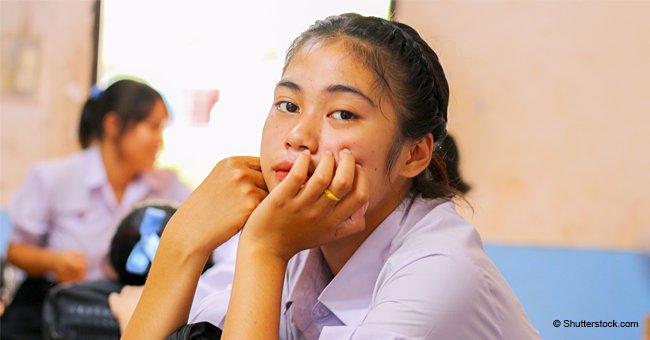 Pregnant teen last seen in December is believed to have died on the day she was reported missing

The student from Terry Parker High School, Iyana Sawyer, that disappeared on December 19, 2018, is still missing but police have a new lead.
Iyana was five months pregnant the last time she got captured on surveillance video leaving Terry Parker High School on December 9. The 16-year-old left the school around lunchtime and never arrived home.
Family members of Iyana had reportedly told the Jacksonville Sheriff's Office they believe the young straight-A student died the day she left school that Thursday.
On Tuesday the Sheriff's Office said "nothing has changed" and it remains an ongoing investigation. Suspicions around the teen's disappearance turned to Iyana's uncle, 33-year-old Johnathan Quiles.
Currently in custody due to an unrelated sexual battery charge, authorities obtained damaging audio recordings of telephone calls made by Quiles while in prison. Quiles reportedly also admitted to a fellow inmate that he possibly impregnated Iyana.
During Quiles' recent bond hearing on the sexual battery charge, the prosecutor disclosed the evidence in support of suspicions of Quiles' probable involvement. Bail got set at $250,000, and he remains jailed.
The family could not be reached for comment. However, John Philips the Sawyer family's lawyer sent out a Tweet on Monday:
If anyone has any information about Iyana, please contact the Sheriff's Office by phone at (904) 630-0500 or email JSOCrimeTips@jaxsheriff.org
In a similar case, 22-year-old Savannah Spurlock vanished on the evening of January 4. Last captured on surveillance camera leaving the Other Bar in Lexington with three men.
Garrard County Police questioned the men in connection with her disappearance, but no charges got filed. Described as 5-feet tall with brown eyes, Savannah also has brown hair often colored blonde. The young mother also has multiple tattoos.
Ellen, Savannah's mother, told WKYT that Savannah's absence is difficult for her kids, as Ellen said:
"Her newborn twins, her 2-year-old —the twins are too young —but the 2-year-old, he misses his mommy. He saw her on TV one night and says, 'Mommy.' He misses her."
Richmond Police Lt. Col. Rodney Richardson confirmed that they are actively looking for Savannah and currently working alongside Kentucky State Police as they follow up on leads.
Savannah's family created a Facebook page, "Missing Savannah" where they post updates and police ask anyone with information about Savannah to contact the department at 859-624-4776.
In a similar case, the story of Jayme Closs gripped the hearts of millions worldwide when she went missing after the brutal murder of her parents on October 15, 2018.
Found after being missing for almost three months, the 13-year-old is said to be recovering from her ordeal. The family recently shared new pictures of Jayme after her return and is grateful to have her back.
Please fill in your e-mail so we can share with you our top stories!