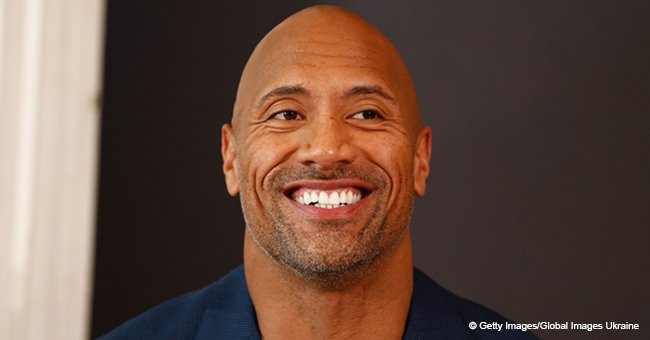 Dwayne Johnson's mini-me daughter saying 'I love you' is cuteness overload (video)

Dwayne "The Rock" Johnson posted a delightful video where his three-year-old daughter tells him "I love you."
The 46-year-old actor took to Instagram recently to share a close-up video of himself and Jasmine, standing outside in the daylight.
"I want to share with you guys, when I was at the door, this little mini-me was waiting for me right here."
The little girl gazed into the camera with her dad. They were trading compliments in a curious tone.
The "Skyscraper" star asked: "Um, can you say 'I love you?'" To which the toddler replied: "I love you."
"Can you say 'mini-me?'" he asked, and little Jasmine repeated him. "Yup, that's what you are."
Jasmine also pointed out her legendary father when asked who was the best daddy on the planet.
Coordinating his daughter's grin, Johnson said: "That's right, always fishing for compliments."
The actor then explained that he's preparing "to shoot the biggest cover of his career."
"I'm so grateful and so humbled to be in this position," he added.
The video also shows Johnson planting a kiss on Jasmine's temple.
"I want to share with you guys, when I was at the door, this little mini-me was waiting for me right here," he continued.
The cute video comes months after Johnson posted an Instagram photo, where he was seen unwinding in the pool and trying to instruct Jasmine to swim.
Next to a sweet snap of the two in the water, he expressed: "Great to recharge the batteries this weekend, back home with all my girls and teaching this lil' tornado how to swim.
"Took my shirt off and she said, Daddy I like it your brown boobies. Thank you baby, but daddy has pecs, not boobies," he added.
The acclaimed actor has long used social media to flaunt his solid bond with his three daughters.
His adorable posts received a high engagement on Instagram, and some followers call him "an inspiration" for the way that he loves his daughters.
In December of 2015, Johnson and his sweetheart, Lauren Hashian, welcomed their first daughter, Jasmine. In April, Lauren gave birth to Tiana.
Johnson also has an older daughter named Simone, who was born in 2001. Simone was born during the award-winning actor's marriage to Dany Garcia before the two separated in 2007.
Please fill in your e-mail so we can share with you our top stories!