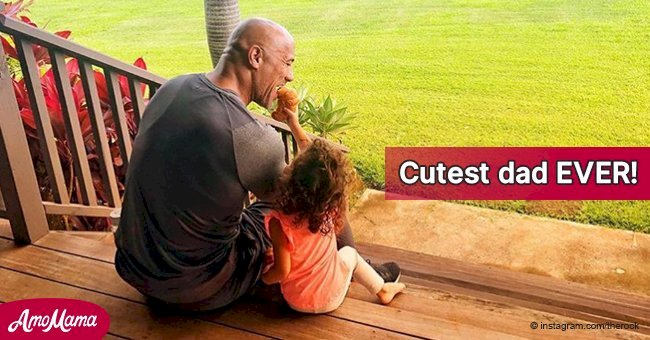 Best photos of Dwayne Johnson with his little daughters, showing him to be the cutest father

The 46-year-old actor Dwayne "The Rock" Johnson can't help but gush over his daughters - Jasmine Lia and Tiana Gia - online.
Johnson might be one of the greatest action stars on the planet, but his little girls now rule his Instagram feed.
The acclaimed actor has been sharing both photos and videos about Jasmine and Tiana's growing antics.
His posts include entertaining anecdotes, serious moments, and the sort of clever situations just busy parents will understand.
Follow us on our Twitter account, @amomama_usa, to learn more.
In December of 2015, the actor and his sweetheart, Lauren Hashian, welcomed their first daughter, Jasmine. In April, Lauren gave birth to Tiana.
Johnson also has an older daughter named Simone, who was born in 2001. Simone was born during the actor's marriage to Dany Garcia before the pair separated in 2007.
With more than 120 million followers, it might come as no surprise that Johnson has officially been touted as one of the most followed celebrities on Instagram.
Here are some of the highlights from the "Skyscraper" star's viral parenting posts.
TRIED TO TEACH JASMINE TO SWIM
On July 15, Johnson posted a photo, where he was seen unwinding in the pool and trying to instruct Jasmine to swim.
Next to a sweet snap of the two in the water, he expressed, "Great to recharge the batteries this weekend, back home with all my girls and teaching this lil' tornado how to swim.
"Took my shirt off and she said, Daddy I like it your brown boobies. Thank you baby, but daddy has pecs, not boobies," he added.
SHARING HIS UPLIFTING FATHERLY WISDOM
In the photo he shared on August 27, Johnson reminded his daughter Jasmine that she can do and be anything she wants to be.
"She can be anything she wants. She and her big sister, Simone and her baby sister, Tiana Gia will always have a strong voice and always make a positive impact," he wrote on a post featuring a photo of himself and Jasmine.
TEACHING HER DAUGHTER HOW TO SAY "GIRL POWER"
On March 9, Johnson posted a video with Jasmine for International Women's Day.
"Girl power," he wrote. "To every woman out there 'round the world - all ages and races - I proudly stand by your side to always honor, protect and respect. Especially, the loves of my life at home."
The actor added, "Now if I can just get Jazzy to say the daddy is the most handsome, brilliant, sexiest man alive part, then we all gonna be cool."
CELEBRATING TIANA'S 6-MONTH-BIRTHDAY
On October 17, Johnson shared a video of him and his "lil' disrupter" Tiana to celebrate her birthday.
"We're a family of non-traditionalists so we celebrate everything," he wrote.
JASMINE ACCOMPANIED HIM TO THE GYM
On October 12, Johnson spent quality time with Jasmine in the gym.
"It warms my cold black heart as she just sits on the ground and looks up in complete loving awe and says 'Wow daddy you're so strong' while I hammer away," he shared.
Johnson's adorable posts received a high engagement on Instagram, and some followers call him "an inspiration" for the way that he loves his daughters.
Please fill in your e-mail so we can share with you our top stories!