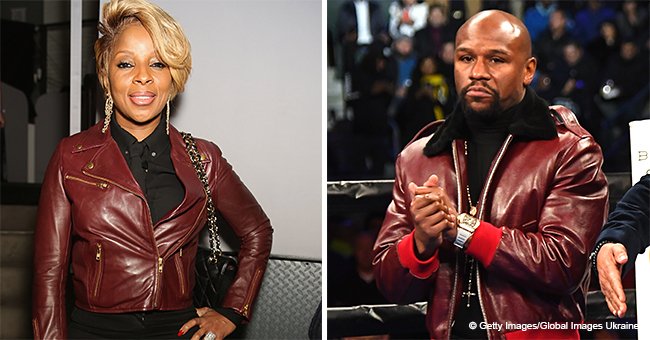 50 Cent stirs up debate with photo of Mary J Blige & Floyd Mayweather in almost identical looks

50 Cent and Floyd Mayweather's feud recently escalated when the rapper sparked a debate by posting a side-by-side photo of Mary J Blige & Floyd Mayweather wearing almost identical looks.
The rapper, 50 Cent has been repeatedly blasting boxer Floyd Mayweather. His tirade of jabs escalated after Mayweather undermined the Gucci blackface boycott.
Their feud has taken a personal turn with 50 Cent attacking Mayweather's dressing. He took to Instagram to post a pic comparing Mayweather to Mary J Blige.
In the image, compared Blige's outfit with Floyd's. Fans could not disagree that the two outfits looked strikingly similar.
Both Blige and Mayweather donned burgundy leather jackets paired with a black shirt and black pants. Their outfits were completed with calf-high burgundy boots.
The rapper jokingly commented on who wore it better. He announced that he believes the R&B icon looks a lot better in red leather.
As expected, 50 Cent was not impressed with the boxer's look. He went on to state the boxer looks like he should be practicing a different sport.
"I think Mary rocked this better, Champ look like a [expletive] jockey," wrote 50 cent.
It's not the first time 50 Cent has ridiculed Mayweather. In the last few weeks, he's posted a slew of memes and pics poking fun at the boxer.
The recent spate of ridicule was sparked when Mayweather had publicly mocked the Gucci boycott. He spent thousands of dollars at Gucci on Monday night.
His splurge came just after calls from stars like T.I. and Spike Lee to stop supporting the brand after the brand released a Blackface sweater. In retaliation to Mayweather's actions, 50 Cent posted an edited pic of the boxer with the Gucci sweater drawn onto him.
The Italian fashion house, Gucci, had been forced to issue an apology on Twitter following the massive backlash over the "racist" balaclava sweater.
Please fill in your e-mail so we can share with you our top stories!