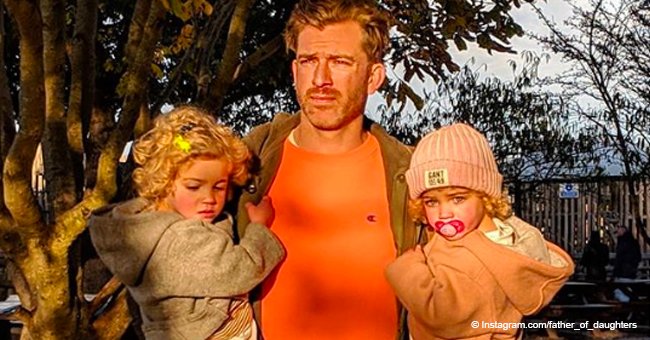 Dad who confessed he can't tell his twin daughters apart sparks fierce debate
A parenting debate started after a dad blogger told Instagram followers he couldn't tell his twin daughters apart.
The Instagram owner of the account Father of Daughters, Simon Hooper, posted an image of his adorable twins on February 8 and shared his troubles in telling them apart.
Simon's wife, Clemmie(Mother of Daughters) sometimes dress the pair in identical outfits, which causes Simon much confusion as she jokingly wrote:
"I thought I had it nailed - I thought the days of referring to Ottie and Delilah simply as 'this one,' 'that one' and 'the twins' were numbered and that I was going to be a parent who could distinguish between my genetic copycats. I was wrong."
As a joke, Simon shared he considered shaving one of the twin's heads and added at the end of the post:
"Screw the curls – the need to identify my own children is more important."
While it seems to be a real issue for some parents with identical twins, one follower offered a solution:
"Temporary letter tattoos on their foreheads, replace as necessary, also easy to remove to prove a point if some nosey judgeypants so and so decides to comment, plus fun for the kids."
Another Instagram user came up with another idea:
"I would honestly die one of their curls in the back a diff color lol ?"
A follower who herself is one of the identical twins also commented:
"Love this photo. I am an identical mirror twin, and I still don't correct people when they call me by my twin's name....which always causes problems when they ask how I am further into the conversation ? We also still have to ask our mom who we are in baby/toddler photos! Twin life really is the best - an amazing gift. ?"
Another father with the same problem asked for advice on Reddit. The man was desperate to find a permanent solution in telling his twin boys apart after he and his wife "tried everything."
One of the twins, Aaron has a serious health condition that requires medication every four hours, as the dad wrote:
"If Aaron doesn't have his medication it leads to significant consequences. [The boys] are completely identical. Even me and my wife can't tell them apart and have been drawing on Adam's arm every day with a permanent marker."
The permanent marker proved to no longer be a viable option as the ink came off when their grandmother bathed them and consequently gave the wrong boy medication. Aaron spent a week in hospital while Adam got sick as the dad added:
"I really hate to say it, but we are here. I need to do something permanent. I could have lost both my sons last weekend, and I'm desperate. I am really only after permanent solutions. Believe me when I say we have tried everything else before and it didn't work."
The dad had heard about other people tattooing a single dot on one twin and piercing ears, which he probably won't want to do with them being boys. People were quick with advice and made suggestions of henna tattoos and similar.
Identical twins are not uncommon phenomena in this day and age. However, identical quadruplets are. In fact, the chances are one in 67 million, and Bethani Webb was that one when she safely delivered four identical girls during a C-section.
What would you do to tell identical twins apart?
Please fill in your e-mail so we can share with you our top stories!