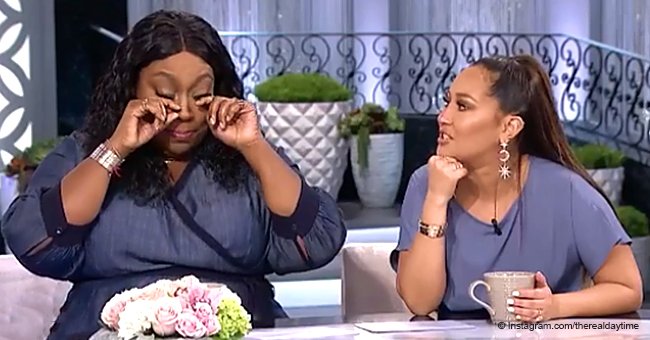 Loni Love dissolved into tears while describing how she and boyfriend James Welsh became exclusive

Loni Love expressed in tears what she couldn't express in words when asked about her feelings towards her boyfriend.
It's been tough getting Loni Love to open up about her relationship with her boyfriend James Welsh but when she finally did, she did so in tears.
The talk show host became highly emotional when she let her guard down recently after her "The Real" co-host Adrienne Bailon fished for more details about her romance on their show's "Girl Chat" segment.
Adrienne asked when and how she and James became official and Loni obliged by revealing it happened on Christmas Eve. It was about four months after they met.
Loni explained that they had gone to church together after dinner that night when James asked her, "would you be my girl?" Loni gushed and answered, "aww yeah."
However, when Adrienne tried to dig deeper and check on Loni's feelings, what she couldn't put to words, she expressed in tears. The 47-year-old could no longer speak and instead allowed her emotions to speak for itself.
Adrienne got the message and said,
"I think he holds a really special place in your heart, and those are tears of joy! That makes me, as your friend, so freaking happy for you, and you deserve that and everything that comes with it."
Loni has been very secretive about her love life until she felt comfortable enough to share photos of her dates with James. She slowly opened up to her co-hosts about her budding romance but made sure not to reveal too much. When a conversation on the show veered towards James reportedly ghosting her when they first met, Loni was a woman of few words who only suggested they ask James himself in a month's time.
More recently, Loni became more vocal about defending James from critics who slammed their relationship because he was a white man. In forceful words, she clarified that she will not tolerate the judgment.
"I have to say this. Me being a person dating a white man -- that is about compatibility, that is not about blackness. Because let me tell you something, don't get it twisted. All day long I will take off my wig and put up my fist and fight for my people. Understand that!"
Loni added that she had been dating black men all her life and doesn't understand why there's an issue now that she's dating a white man. She insists it's about compatibility "especially when you get in them 40's."
One thing's for sure, Loni is not here to be criticized for the relationship she holds dear even when she chooses to keep a low profile about it.
Please fill in your e-mail so we can share with you our top stories!