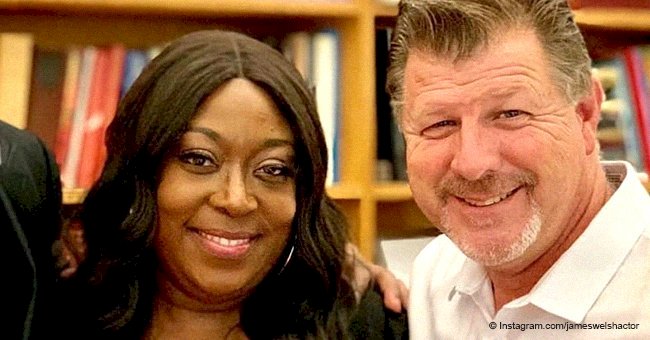 Loni Love's new man reportedly ghosted her for 2 weeks but she refuses to reveal real reason why
Loni Love is keeping mum on the reason her new man ghosted her for two weeks before they got together. The comedian/Talk show host says we'll only get to know on one condition.
During a recent episode of the daytime talk show, "The Real," Loni's co-host Adrienne Houghton, put the comic on full blast. Loni apparently never intended to introduce her new man, but Adrienne had other plans.
"I really like James," Houghton began before catching herself and asking:
"Oh wait! Am I supposed to not say this man's name?"
But it was too late. The other co-host, Jeannie Mai, yelled out to the excited audience:
"James is the white man that's on Loni's Instagram! Scroll down!"
"The thing is, we love James. We think James is the sweetest guy," Houghton continued. "I'm just having a hard time believing that James ghosted you for two weeks in the beginning. This actually makes me reconsider things because he's such a good guy."
ON ONE CONDITION
A shy Loni said she couldn't answer that, but she did give us something to hold on to.
"I can let him answer. Maybe in 2019, I'll have him to come. That's only one month. It may not last!"
"So in 2019, James will come on the show and explain himself?" Houghton asked.
"Maybe," Love insisted. "Maybe."
ONCE BITTEN...
No doubt, Loni was playing coy, but that's probably because she wants to take things slow and see where they go with James, who is said to be an actor.
Back in 2014, Loni held nothing back when she spoke about her then-boyfriend, Sam, on "The Ellen DeGeneres Show." The 23-year-old even made an appearance on Ellen's couch, and he and Loni shared a kiss.
Loni, 47, was also previously married, and she's been very open about how she walked away from the union to pursue her dreams of becoming an entertainer.
"I was in love, but it takes a lot. He needed to move to another state, and that wouldn't have allowed me to be a stand-up. So I really had to make a decision of, did I really want to have that settle down, family life, or was I going to be an entertainer? I didn't want to do him the disjustice of not being a wife because being a wife is important. I think I made the right decision, because look at me now."
We'll be keeping our fingers crossed for 2019, and hopefully, we'll get to hear James' side of the story.
TAMERA'S ABSENCE
Meanwhile, the show's fourth co-host, Tamera Mowry, was missing from the episode. Mowry and her family have been mourning her niece, Alaina Housley, who was one of the victims of the November 7 Thousand Oaks mass shooting.
"We send prayers and strength to all the victims' families and their community as well as our gratitude to the first responders. We send all our love and our deepest condolences to the Housleys, our family, during this difficult time."
Please fill in your e-mail so we can share with you our top stories!