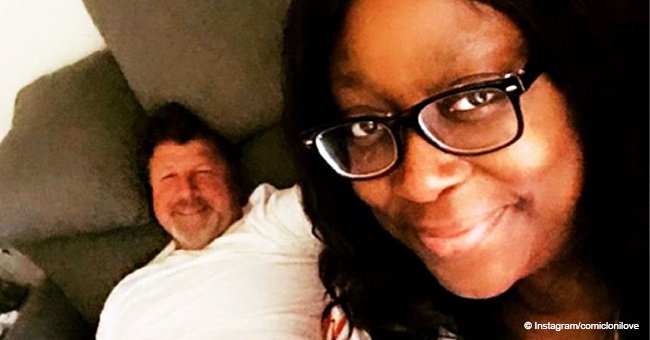 Loni Love looks happy in new cosy photo with her rumored boyfriend
Loni Love, one of the hosts of "The Real," took to Instagram to share a photo with her rumored boyfriend. Everything suggests she is about to reveal their relationship.
In the image, the comedienne appeared with a beautiful yet funny smirk on her face while wearing glasses and a white blouse. Actor James Welsh was right behind her resting on what seemed to be a sofa bed while smiling and holding a cup.
For the caption, the host pointed out that it had been a tough week, so "someone came to check" on her. She ended her message saying that they love Tamera Mowry and Adam Housley.
SENDING SUPPORT TO THE HOUSLEYS
Loni was probably sending her support to her friend and co-host Tamera and her husband after their niece, Alaina Housley, was identified as one of the victims during the Borderline Bar Shooting in California on November 6.
THE INCIDENT
Unfortunately, 18-year-old Alaina was at the Borderline Bar & Grill in Thousands Oaks, California, when a gunman, identified as 28-year-old former Marine Ian David Long, opened fire and killed 12 people and injured at least 12 more, reported CNN.
PEOPLE'S REACTION
As soon as the comedienne shared that photo, her followers took to the comment section to share their thoughts. One of them pointed out that James looked just like he was in heaven and he wouldn't like to be anywhere else.
PREVIOUS PHOTOS OF HER RUMORED BOYFRIEND
It is not the first time that Loni has made headlines by posting photos with James. In late-October, the host shared another image of both of them looking clearly happy to be next to each other, something that surprised her fans as she has kept her life as private as possible.
Everything suggests that Loni is now comfortable enough with James to the point where she doesn't mind sharing their relationship all over social media. Even though she has yet to confirm or deny that James is her boyfriend, the ladies of "The Real" will probably make sure she admits it sooner rather than later as they even took a segment of the show to push Loni to tell the truth.
TRYING TO MAKE HER ADDRESS HER RELATIONSHIP
During that segment, Tamera, Jeannie Mai, and Adrienne Houghton (the rest of the hosts) presented some proofs that set clear that Loni was involved in a romantic relationship with a mysterious man.
After showing photos uploaded to her Instagram, and even messages exchanged between Loni and Adrienne, the comedienne never confirmed or denied her relationship. Her fans cannot wait for the big announcement, though.
Please fill in your e-mail so we can share with you our top stories!