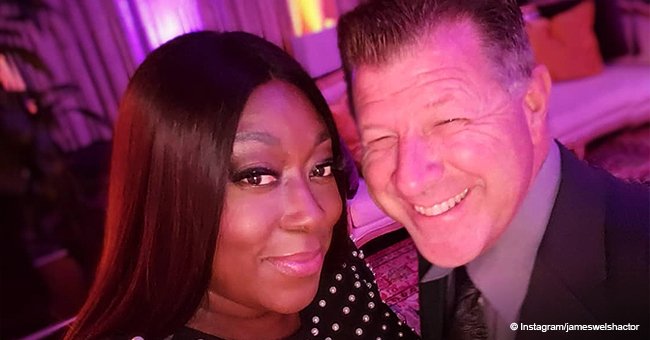 'I've been dating black men for 47 years!' Loni Love defends her decision to date outside her race
"The Real" co-host Loni Love will not tolerate trolls criticizing her current interracial relationship. She addressed the issue in a recent episode of the show and had plenty of support from another black host.
It's not sure when she started dating actor James Welsh, but Love, 47, first went public with their relationship in November 2018.
Now, it appears some folks have chosen to take offense with another woman's dating choices, and Love had a lot to say to them on Tuesday's episode of "The Real."
"I was like 'Are we supposed to do something[for Valentine's Day]?' and he was like 'I don't know.'"
"I have to say this. Me being a person dating a white man -- that is about compatibility, that is not about blackness," she stated. "Because let me tell you something, don't get it twisted. All day long I will take off my wig and put up my fist and fight for my people. Understand that!"
"I don't get how dating someone white would make you less black," co-host Adrienne Houghton chimed in before the day's guest-host, Yvette Nicole Brown, also black, chipped in her thoughts:
"The other thing that I can say about Black women dating white men, nobody starts there for the most part. We give a lot of chances. Listen, I have never dated outside of my race ever. I've always been down for the brown. But if y'all see me with an 'other,' I don't want to hear nothing from nobody!"
Agreeing with Brown, the comedian issued a stern warning to anyone who had something negative to say about her relationship with Welsh:
"I've been dating Black men for 47 years! This the one white man and y'all gonna try to talk? No! It's about compatibility. …Let's be real, they've been giving grief to Serena Williams. They've been giving grief to anybody that's prominent that has been dating outside of their race. But [I'll] tell you, when it comes to love, it's about compatibility — especially when you get in them 40s."
Love and Welsh are going strong and have become an exclusive couple, but the TV host recently revealed that they have no plans for their first Valentine's Day.
"I don't know what I'm going to do this Valentine's," Love said in an earlier episode of the show. "You know, I guess maybe because we always date, it's not a big deal. We were talking about it last night. I was like 'Are we supposed to do something?' and he was like 'I don't know.'"
"I've never been that type of woman like, 'You've got to show me on this day.' I'd like for you to show me all of the time. Not just one day.' So we always date, so I don't think it will be a big deal."
Please fill in your e-mail so we can share with you our top stories!