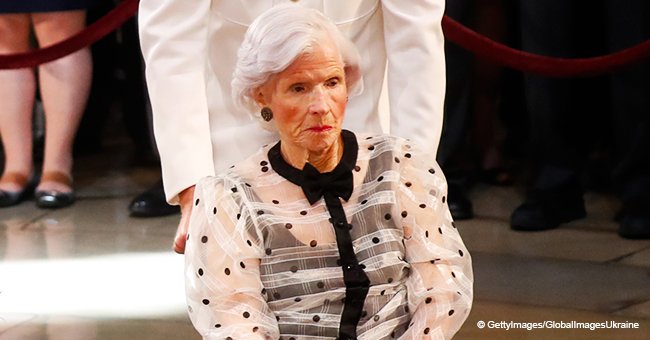 While Roberta celebrates her 107th birthday, her best friend shared McCain's tips to longevity

Robert McCain's best friend, Greta van Susteren, has revealed that the elderly lady's huge appetite for travel and adventure, as well as excellent family relations, has contributed to her longevity.
Roberta McCain, mother of late US Republican senator from Arizona, John McCain, turned 107 on February 7, 2019. As would be expected on such a historic moment, some family members took the lady out to celebrate.
Her granddaughter, Meghan McCain, also took to Twitter to celebrate her nana by sharing a picture of her hugging her grandmother with her late dad and his Senate colleague Lindsey Graham looking on. She called Roberta an American treasure and thanked her for being a life model for her.
Greta van Susteren, a television anchor, gave some insights into the fantastic life the 107-year-old had lived. Although there is quite a considerable age difference between the women as Greta is only 64 years old, they have struck such a strong chord with each other that they became best friends.
The women met when Greta interviewed Roberta in the run-up to the 2008 elections when Roberta's son, John McCain, was the Republican presidential candidate. Since then, the two have kept in touch very frequently over coffee.
Amongst others, one of the main contributors to Roberta's longevity is her zest for adventure and closeness to family, Greta revealed. She disclosed that the 107-year-old had undertaken many journeys all over the world, especially with her twin sister, Rowena, who died at the age of 99.
Greta narrated the story of how Roberta and Rowena traveled the world in their 90s and how, when they arrived in Paris, tried to rent a vehicle but were refused because of their age. So they bought a red BMW, drove around Europe and had the car shipped back when they returned.
She also revealed how Roberta always has something to share when she announces a journey,
"Every place I say I've been, and I've been all over the world, she outdoes me."
Now unable to move around so much due to age, Roberta still dresses up and receives people. She lives with the youngest of her children, Joe, 76, and engages in arm and leg exercises daily, led by her son.
When her other son, John, died last year, she was seen at the funeral comforting her granddaughter Meghan. "She's a strong military wife and mother. She's very stoic that way. She's strong," Greta stated on how she handled the death.
She also mentioned that the elderly lady is still very much fired up about politics, on which she has very strong opinions as well as valuable advice.
Please fill in your e-mail so we can share with you our top stories!