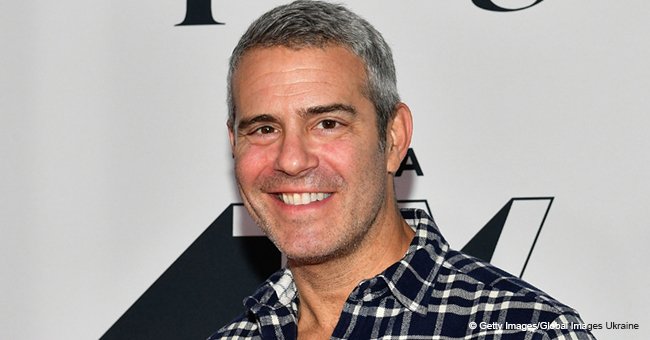 As 'a gay man' Andy Cohen never thought that parenthood 'was in the cards' for him

The Bravo talk show host looked back at his mother's regrets when he came out as gay in 1988 and reflected about how things have changed for the better for the gay community in the last 30 years.
50-year-old Andy Cohen sat with People and Entertainment Weekly Editorial Director Jess Cagle for a very personal interview to be featured in the February 15 edition of People magazine, and he talked about finally becoming a father.
Cohen recalled the state of things for gay men in the '80s and early '90s, when the AIDS crisis was at it worst and gay people was stigmatized out of ignorance, so at that time he thought there was never going to be a chance for him to raise a family.
"As a gay man, I never thought it was in the cards for me," Cohen admitted in the interview. But that is all part of the past now that he achieved his dream of becoming a father thanks to a surrogate on February 4.
"When I came out to my parents in 1988, my mom said she had to mourn the life that I wasn't going to be able to have. And that life meant getting married and having kids."
-Andy Cohen, People, February 14, 2019.
The "Watch What Happens Live" host also mentioned the importance that turning 50 years old had for him when he finally made up his mind and decided to pursue parenting.
Cohen has spent only days with his little Benjamin Allen, but he is already looking forward to all the things he will live with him as he grows up.
"First day of school, bar mitzvah, just tucking him in, being on the beach with him. I'm in a place in my life where I have a pretty generous schedule and where I can afford to pick up and go somewhere for the weekend," he said.
On February 5, Cohen took to his Instagram account to share the news of the arrival of his baby boy, and he used the opportunity to reveal his newborn's name, explaining its origin.
"He is named after my grandfather Ben Allen. I'm in love. And speechless. And eternally grateful to an incredible surrogate. And I'm a dad. Wow," he captioned a beautiful picture of him holding his son for the first time.
Then, on February 13, People made the first official photos of Andy and Benjamin, in what will be the baby's debut in a magazine cover. Talk about an early start in show business!
Please fill in your e-mail so we can share with you our top stories!