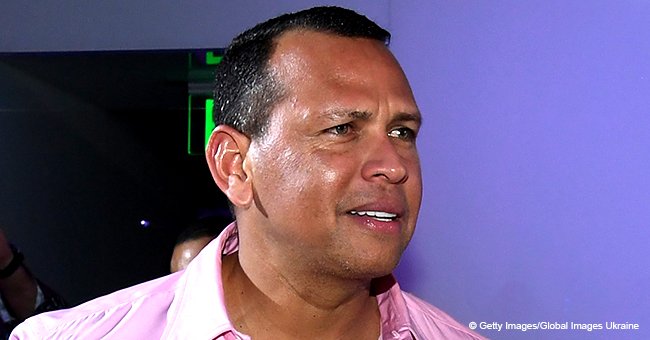 Alex Rodriguez had an epic reply for Diddy after he left thirsty comment on revealing pic of J.Lo

Diddy recently shared a "thirsty" comment on one of Jennifer Lopez's most recent Instagram posts, and her beau Alex Rodriguez wasted no time responding to the rapper.
J. Lo is one of the most beautiful women on Earth, and at 49-years-old, she remains to be one of the sexiest stars in Hollywood. That is why when she posts revealing photos on Instagram, her comment section is prone to be flooded with "thirsty" comments from fans and other celebrities alike.
J. Lo's Body Transformation
While her boyfriend Alex Rodriguez should be used to these comments by now, he didn't make Diddy's comment slide, especially since the pair dated more than a decade ago.
The 49-year-old music icon appreciated Jennifer's beauty in the photo, commenting heart-eyed emojis. After noticing the "thirsty" comment, he responded to it, saying "Lucky me."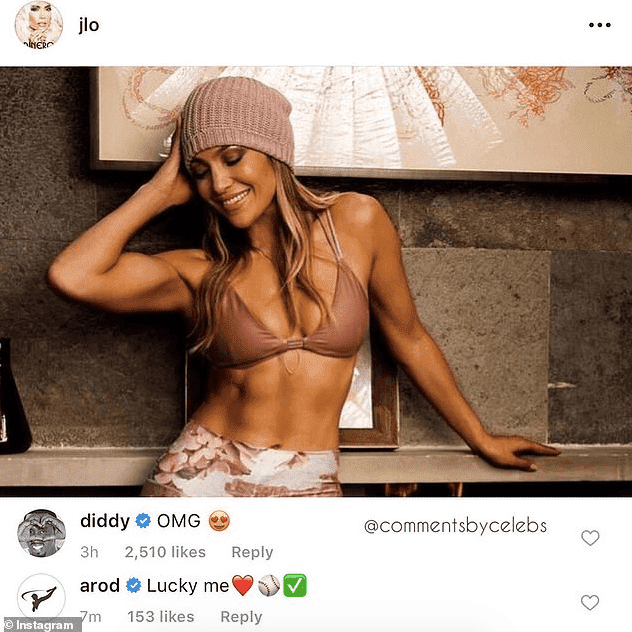 Diddy and Alex Rodriguez's comments on J. Lo's photo | Source: Jennifer Lopez Instagram
In the photo, Lopez showed off the progress she's had since starting a 10-day challenge with Alex. This 10-day challenge required her to cut out sugar and carbohydrates from her diet, which is supposed to make her lose a lot of weight. She donned a dark pink sports bra and matching leggings to show off the stunning body transformation.
1Although stars like Jennifer often diet and work their butts out in the gym to keep their shape up, it was difficult for her not to eat carbs and sugar for ten whole days. In fact, her caption read "day 9 and feeling like I can't wait for day 10." She went on to ask her fans who joined them on a diet asking who was still with them.
J. Lo's Relationship with A. Rod
Jennifer Lopez and Alex Rodriguez have been dating for two years now, and the two of them have been acting like a married couple. Not only have they been gracing every red carpet event in each other's arms, but they've been treating each other's kids as their own. That is why it's safe for Alex to say that although they've only been together for two years, it seems as if they've been together forever.
Celebrating their second anniversary together earlier this month, the lovely couple shared adorable notes to one another for everyone else to see. The former athlete had a lot to say about his lady love, saying that they've done it all together, and he appreciates every single thing they've gone through. Despite seemingly going through it all, he says that their journey is only beginning, and he's excited to spend the rest of his life with her.
"I can't believe it's been two years. Only 730 days, which have flown by, but it feels like we have been together forever. We are meant to be, and how much you mean to me cannot be put into words."
Likewise, Jennifer shared a sweet note for Alex, sharing to everyone that he makes the world a beautiful, safe, and stable place.
"Two years of laughter, two years of fun, two years of adventures, of excitement, of growing, of learning, of true friendship, and so much love!!"
Although they haven't expressed their intention to get married anytime soon, they might as well be. JLo and ARod have been quite open about their blended family, sharing snaps of their children enjoying their time together as if they've been a family for years.
With their relationship entirely stable and secure, it's safe to say that comments from ex-boyfriend like P. Diddy are not taken seriously in the Lopez-Rodriguez household anymore, and instead, are turned into something humorous for everyone.
Please fill in your e-mail so we can share with you our top stories!