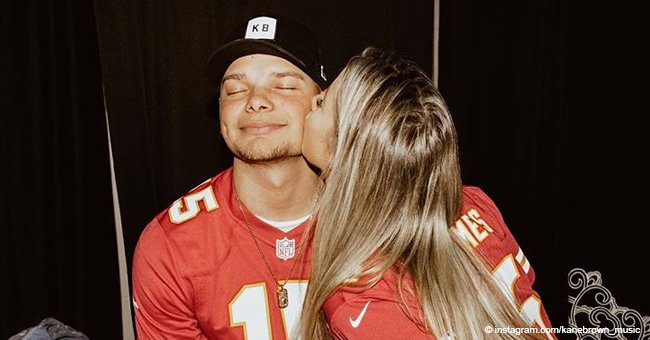 Country star Kane Brown reduced wife to tears with his Valentine's day surprise
This year was the first time country singer Kane Brown and his Katelyn Jae got to celebrate their first Valentine's Day as a married couple. The pair took to social media to share their gifts for one another.
After Brown received his gifts from his wife, he decided to surprise her at home with a beautiful display that had her in tears.
In an Instagram Story, Kane Brown revealed all the gifts that his wife, Katelyn Jae had gotten him for Valentine's Day morning. The country singer made a short video that showed some of the gifts.
He could be heard saying, "Katelyn's spoilin' me," in the clip as the camera moved to show off a cute Panda balloon, wine, champagne, Reese's candy, cookies, and a gift bag. Brown made sure he outdid her gift with his own surprise.
A video that he posted on Instagram showed his wife returning home. The sweet clip was simply captioned, "HAPPY VALENTINES DAY!!!!..."
Jae is seen opening the front door to their Tennessee house, and gasping as she takes in the scene in front of her. She covers her mouth and exclaims, "Kane! Oh my god! Stop! Look how pretty!"
The country star's wife walks into their living room and the floors are lined with vases of red roses that make up a beautiful walkway for her. There are also lit candles in between the flowers.
The display leads all the way to the fireplace, where red rose petals are shaped into a heart. Jae can be heard saying, "How many of these did you get? Look how sweet you are!"
Her husband appears to be quite the romantic and he often writes songs about her. His latest single, "Good As You," was written about the love of his life.
The music video featured footage from their October 2018 wedding.
A few days after winning three awards at the 2018 American Music Awards, Brown married his longtime girlfriend in a ceremony outside of Nashville on October 12. They married in front of around 200 friends and family.
His wife's brothers and his guitarist, Alex Anthony, all served in the wedding party.
Please fill in your e-mail so we can share with you our top stories!