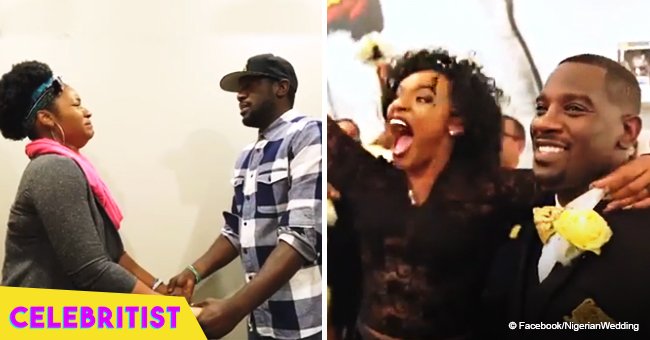 This man surprised his girlfriend with an engagement and a wedding on the same day in viral video
A man planed for months the biggest surprise to his girlfriend: a proposal and a wedding on the same day. The emotional videos of their marriage became viral, and people all over social media titled them as the Black Love Story of the year.
Alfred Duncan and his then-girlfriend Sherrell Woodward had agreed on having a "competitive date day" in which one of them planned a surprise date, and the other had to accept everything without asking questions.
But Sherrell could have never imagine what Alfred had for her in store as he took her to a restaurant. He had taken away her phone, and, without her knowing, documented every bit of their day on Instagram, asking family and friends who were in the surprise to share their pics and videos as well.
THE PROPOSAL
Duncan reunited Sherrell's family member on a private room in the restaurant, and after a heartfelt speech and lots of tears, he proposed in front of them. She said yes immediately, and he gave her an address to receive another surprise.
Sherrell then arrived at a hotel where some of her friends were waiting with balloons and a whole glam team. She was told she was getting dolled up for her engagement photo shoot, but once she arrived at the venue, the real surprise of the day was waiting for her: a wedding.
THE WEDDING
Her family and friends were there, and as she arrived, a friend handed her a flower bouquet while her father took her by the arm. Sherrel couldn't stop the tears as she raised her arms to the sky in praise.
"I'm so proud of you," she said on her vows. "I'm so happy that you love me this way. I'm so happy you chose to do this with me. I love you with my whole heart baby."
The couple quickly became a viral sensation and, naturally, they were interviewed in several talk shows.
HOW EVERYTHING CAME TOGETHER
"Listen, I'm still trying to figure this all out. Who does this? You know what I mean?," Sherrell said on "Good Morning America.". "Now I'm looking at him like, 'I got to get to know you all over again? I didn't even know you had this in you."
Alfred admitted that it took a lot of help from her family and friends to make the perfect proposal and wedding day, and he added:
"Ultimately I just studied her for a very long time, and I learned what she loves, what she likes and what she would want. I just thank God. It's gone viral, I wasn't expecting this, of course. If not one person posted the video, I didn't care. I was just trying to impress and amaze my beautiful wife."
However, some cynical people on social media believed the whole thing was staged, and all because of Sherrell's fitted dress. But Alfred explained how he took care of that detail months before popping the question.
"We are brand ambassadors for a clothing company called I'm Young Fashion," he said. "So probably three months ago I told the girl, 'Listen, I need you to convince my girlfriend to get to design her own dress.'"
They came up with a plan where the designer told Sherrell she was doing a line for "voluptuous, beautiful women," and she asked for her input and measures to make the perfect wedding dress.
THE AFTERMATH
The Duncans have now been married for two years, and they have a beautiful blended family. They even started a series about their lives in YouTube and had been sharing pieces of advice for other couples about trust, respect, love and the vital role of God and faith in their relationship.
"God is working. If you don't believe in God and faith and things like that, I encourage you just to pray," said Sherrell.
"Even if it's just to say 'thank you' to God. Because what's going on right now is bigger than a surprise wedding. It's bigger than a surprise proposal. This thing is God connecting vessels together."
The Duncans have a play titled "Views From Forever" coming up in November.
Please fill in your e-mail so we can share with you our top stories!