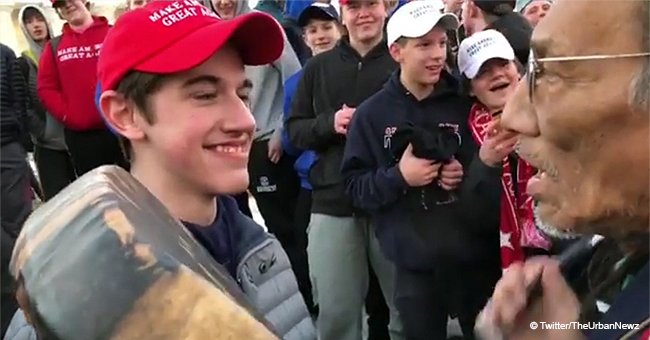 Kentucky students didn't make 'offensive or racist statements,' third-party investigation claims

A recent report concerning the encounter between Kentucky high school students and Native American Nathan Phillips concluded that the students were not offensive in any way.
The investigation led by Greater Cincinnati Investigation, a detective agency retained by a law firm, claimed that the Covington Catholic High School students didn't respond to any provocations from the other group involved.
According to the report shared on the Diocese of Covington website, the students were being taunted and insulted by members of the Black Hebrew Israelites before Phillips' arrival.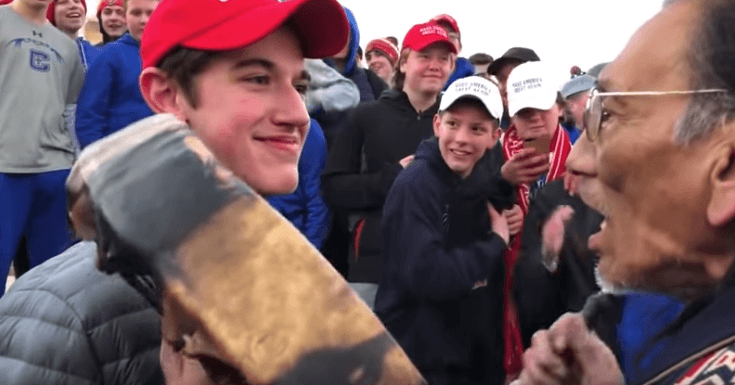 Nick Sandmann and Nathan Phillips facing each other | Photo: On Native Ground
HOW IT ALL STARTED
The incident took place on January 18, 2019, at the Lincoln Memorial in Washington, and caught national attention for what would later be revealed as a misunderstanding.
In the video that spread across several social media platforms, Nick Sandmann, one of the students, who was wearing a "Make America Great Again" hat, is seen standing in front of Phillips with a smile on his face.
People online, including celebrities, quickly jumped to the conclusion that Sandmann and his colleagues were mocking Phillips, who was in Washington for the Indigenous People's March.
The investigation, however, concluded that Phillips was the one who approached the youngsters while playing his drum, and instead of mocking the Native American, they were chanting to silence the Black Hebrew Israelites' insults.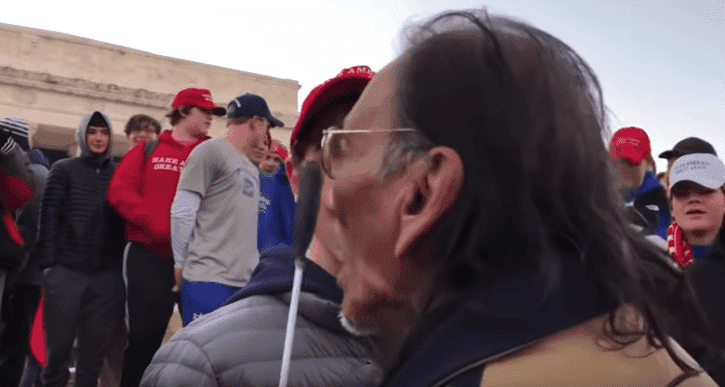 Nathan Phillips playing his drum in front of the students | Photo: On Native Ground
VICTIMS OF THE ONLINE MOB
The high school students were in Washington for the March for Life rally and it has been revealed that some bought the MAGA hats that same day. Plus, the investigation report states that they never chanted "Build the Wall" as it was initially believed.
"We found no evidence of offensive or racist statements by students to Mr. Phillips or members of his group. Some students performed a 'tomahawk chop' to the beat of Mr. Phillips' drumming and some joined Mr. Phillips' chant."
Greater Cincinnati Investigation, Final Investigative Report, February 11, 2019
A HAPPY ENDING FOR THE YOUNGSTERS
Following the discovery that the students had not had an incorrect behavior, Bishop Roger Foys informed the students' parents that the teenagers had been exonerated.
At the time, the Roman Catholic Diocese of Covington and Covington Catholic High School issued a statement condemning the student's actions.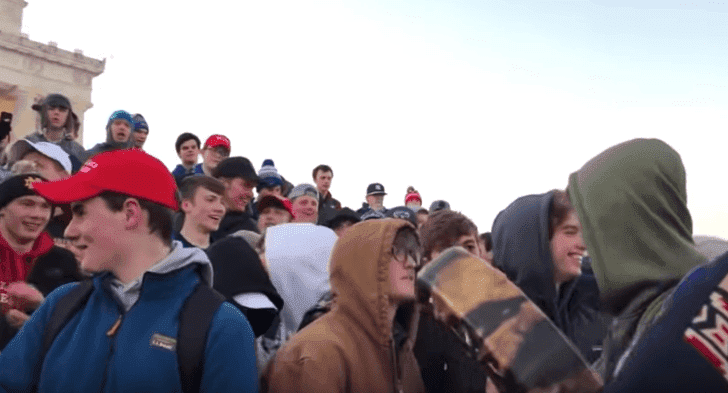 The Covington Catholic High School students at the Lincoln Memorial in Washington | Photo: On Native Ground
In that statement, it was guaranteed that the students would be subjected to proper action if found guilty of any violation of conduct while in Washington, including expulsion.
Please fill in your e-mail so we can share with you our top stories!