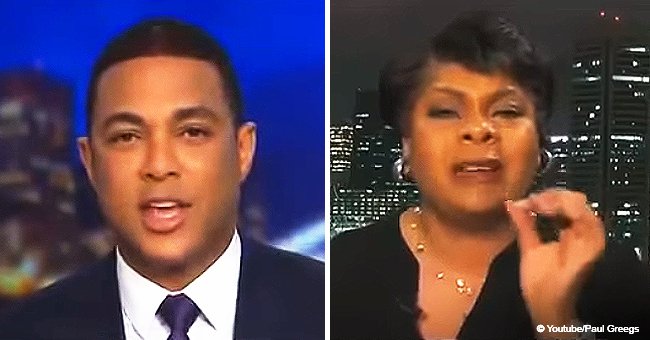 Don Lemon & April Ryan have intense debate over Sen. Kamala Harris' 'blackness' in new footage

CNN host Don Lemon had a heated conversation with April Ryan about Sen. Kamala Harris' "blackness." He didn't even let Ryan finish her ideas a couple of times.
The segment of "CNN Tonight" began with Lemon showing a clip of Harris, the only Black female presidential candidate for the 2020 elections so far, being questioned about her blackness on "The Breakfast Club."
Harris didn't deny that her mother was Indian and that her father was Jamaican but said that she was born in Oakland and that she lived in Montreal, Canada for a few years when she was in high school.
Later, the lady said that people who question her blackness were trying to sow "hate and division," and that they were trying to do the same they did with Barack Obama in the past, when several people (including President Donald Trump) claimed that he was not born in the US but Kenya.
RYAN'S THOUGHTS
Lemon asked Ryan about her thoughts, and the veteran White House reporter responded by driving the subject to the meaning of "Black enough," pointing out that even though her mother was South Asian and her father was Jamaican, Harris was still a Black woman.
The host chimed in and said that the issue was never about Harris being "Black enough," suggesting that she should have said that she was Black, not African-American as she didn't share the experience of American Descendants of Slaves (ADOS).
Ryan kept saying that many enslaved Africans landed in Jamaica and other Caribbean Islands, but when Lemon interrupted her again saying that Jamaica was not America as it didn't come out f Jim Crow.
LEMON'S EXPLAINING HIS POINT
"She was born in America!" pointed out Ryan, who tried to compare Harris' situation with Sen. Ted Cruz's by saying that he was born in Canada, but Lemon again chimed in, saying that the subject was not about Cruz.
"It's hypocrisy! I'm not changing the subject! I don't know what you want from me," said Ryan. After a while, Lemon explained what he was trying to say: American people consider that every Latin American person is a Latino, but there is nothing wrong about asking where are they actually from, naming Cuba, Mexico, and Costa Rica as a few examples.
So, just as there is no problem with a Latino distinguishing their nationality, there shouldn't be a problem with Black people talking about their relationship with Africa and America.
At the end of the discussion, both Lemon and Ryan seemed to agree that Harris "feels the effect of Jim Crown and being a Black woman in America."
HARRIS' THOUGHTS ON MARIJUANA
It is not the first time that Harris' words make headlines, though. While in "The Breakfast Club," she said that the rumors she didn't support legalization of marijuana were false as it "gives a lot of people joy."
The 54-year-old suggested the world needed more joy and marijuana would contribute to it by making people happier. Harris even confessed that she did smoke marijuana in college, and even made a funny reference to former U.S. President Bill Clinton by saying that she also "inhaled."
Back in 1992, during his presidential campaign, Clinton admitted to having smoked marijuana as a Rhodes Scholar at the University of Oxford but that he "didn't inhale it."
Please fill in your e-mail so we can share with you our top stories!