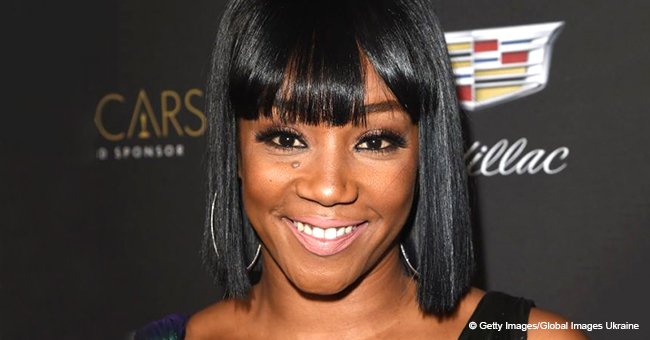 Tiffany Haddish reveals that she reportedly almost became Drake's stepmother

Tiffany Haddish revealed Drake's dad slid into her DMs. She apparently turned him down because she did not want to be the rapper's "step momma."
Last year, Tiffany Hadish opened up about Drake sliding into her DMs. Now she's revealed one of the Canadian rapper's family members also tried to romance her.
The 39-year-old comedian revealed during an interview that the 32-year-old "God's Plan" hitmaker's father, Dennis Graham tried dating her. She went into details about her dating life as well.
She said, "His [Drake's] dad hit me up though and I turned his dad down. I'm not being Drake's step momma!"
Tiffany added that she asked Drake if he was taking her out to dinner after appearing in his "Nice For What" music video. However, she never heard from him again after their date.
"That's because I was being thirsty – that's my fault. I should have said, 'I'll see if I can be in your music video. What are you looking at? Are you trying to hang out with me? Ewww gross!'" said Tiffany. "I should have been like, "who are you again? What do you do?"'
Last June, the Girls Trip star revealed she could have made money if she had focused on work instead of going out with Drake. SHe made the revelation on Jada Pinkett Smith's chat show Red Table Talk.
''I could have made $100,000 today. But I was trying to see what that D do. But alright," said Tiffany.
Currently, she is working on many exciting new projects. Tiffany also revealed to Glamour UK that she is working on a music album.
She explained, "Granted, most of this album has already happened in my head but that's how it starts. It all starts in here and then it comes out and I've been talking to people."
Tiffany also sings a song at the end of her audiobook for The Last Black Unicorn. The book was released in December 2017.
She has since had vocal lessons. She also said:
"I got nominated for a Grammy, not for that song but for the book, for the audiobook. I didn't know you could get nominated for reading into a tape recorder, but you can! I'm really excited about that and it really inspired me like, "wow if I can nominate for a Grammy for telling my truth, what can I get if I really just apply myself and my vocal skills?" I'm going to see what happens. It might be really great, it might not but who cares, right? You've got to give it a shot."
Please fill in your e-mail so we can share with you our top stories!