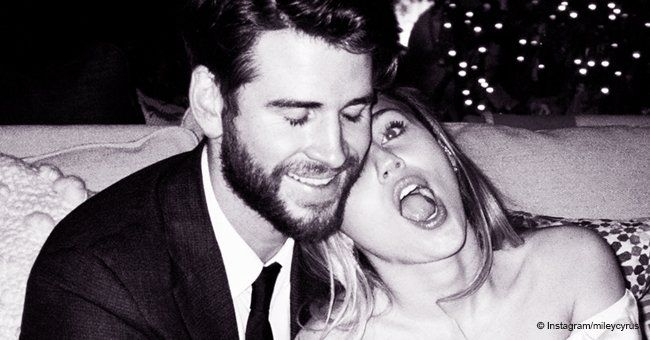 Miley Cyrus reveals unseen wedding photos as she thanks husband for always bending to hug her

Miley Cyrus shared romantic pictures from her secret wedding with husband, Liam Hemsworth, thanking him for always bending to hug her.
In a bid to celebrate their first Valentine together as a married couple, Miley shared pictures showing the couple all cuddled up and giving us a better look at the singer's- Vivienne Westwood wedding dress.
The recluse wedding took place late in December, and the lovebirds have not stopped gushing about each other ever since. Miley posted three pictures from their wedding, all black and white shots.
One of the photos shows the couple cuddled together on a couch, while the second shows them hugging each other in front of a floral arch at the wedding, and in the last one, they are seen in front of their delicious looking cake.
The "Wrecking Ball" singer gushed about her love for her husband in the captions. One read:
"My Valentine every single day."
In another, the singing star thanked her hubby for;
"always bending down to hug me. I promise I will always meet you in the middle on my tippiest toes! I love you, Valentine!"
Miley Cyrus and her actor husband, Liam Hemsworth, have been dating since 2009 when they met at the shooting of the movie, "The Last Song." Although their relationship was on and off, they eventually tied the knot in their Tennessee home, with just family and a handful of guests.
The singer also posted pictures showing off her silky, off-shoulder Vivienne Westwood gown; Miley was holding a bouquet in one while she was dancing in another.
It's not all been a bed of roses as she is facing a copyright lawsuit from a Jamaican, Michael May.
He claims that Miley's song, "We Can't Stop," infringed on the copyright in his 1988 song, "We Run Things." The issue is whether the phrase "we run things, things don't run we" is protectable, and if it is, it will be determined whether Miley including it in her song is fair use.
She has moved for the dismissal of the case for failure of May to state a claim, or the court should rule that he recover statutory damages or attorneys fee due to the three-year statute of limitations.
Miley argues that the phrase is not original enough to deduce copyright protection.
Through the back and forth of the case, Miley is shining like a star, and according to US Magistrate Judge Robert Lehrburger, Miley has a high chance of winning.
Please fill in your e-mail so we can share with you our top stories!