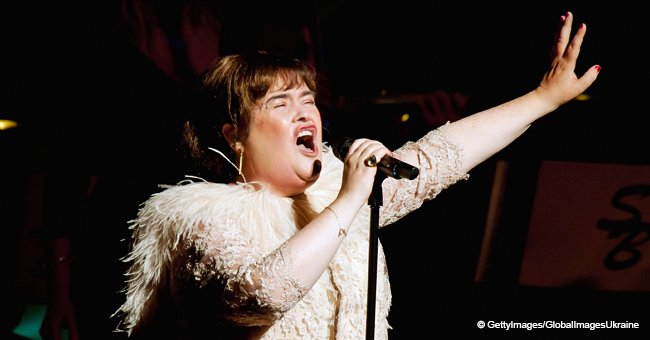 57-year-old Susan Boyle breaks silence on devastating breakdown that almost ditched her career

Britain's sensation Susan Boyle is back after a big break and has also opened up on the traumatic inhibitions that nearly saw to the end of her career.
The 57-year-old Scottish singer came into limelight after she bedazzled the judges and audience of the favorite talent show, "Britain's Got Talent" as she performed the song "I Dreamed A Dream" of the French-based movie, "Les Miserables" in 2009.
The song was also part of her debut studio album. This development earned her the term, "The SuBo Phenomenon" as she became a point of inspiration for many.
Her dream-come-true story, however, didn't come without its challenges as Boyle wasn't ready for the whole new ball game that the entertainment world is.
Before her big break, Susan had always been a small town girl who lived a humble life in Blackburn Lothian. Her father was a miner while her mother was a shorthand typist. She started her singing career early and had attended a couple of singing auditions.
Following her victory of emerging in second place at "Britain's Got Talent," Boyle found out that she wasn't ready for the bigger picture.
She was earlier diagnosed with Asperger's syndrome, and friends and family worried deeply about her mental health. Between trips to the studio and different tours amongst other workloads, she began to gravitate towards a breakdown.
This resulted in her withdrawal which took her away from the spotlight for five years. Having put the five-year break behind her, Susan Boyle has emerged even stronger making it known that she is ready to face the highly controversial entertainment world.
In an exclusive interview, she revealed that she had better control over her condition and opened up on her struggles with Asperger's syndrome, making it known that it was difficult to talk about such state of health as a result of the stigma attached to it. However, she mentioned that due to high awareness, she has found it easier to voice out.
Regardless of her status, she lives a normal lifestyle and this is the reason many fans love her. She still resides at her parents' home. Her outlook to life also extends to her wealth as she hardly ever acknowledges it.
She said:
"I just want to entertain people, and I want to make them happy. Money doesn't bother me,"
When asked, she revealed that her biggest regret was the fact that her parents were no more.
"My mother would be proud of me you know, and my dad especially. My dad was trying to be a professional singer at one time, but it didn't work out,"
She is set to release a comeback album soon. We can't wait.
Please fill in your e-mail so we can share with you our top stories!