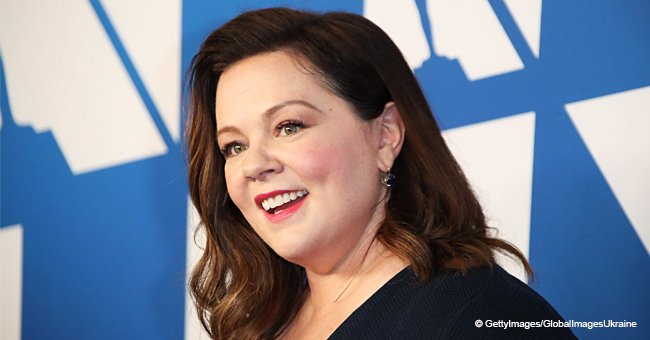 Melissa McCarthy is a proud mother of 2 beautiful daughters - meet both of them
Vivian and Georgette Falcone are Melissa McCarthy's greatest treasures.
Happy couple Melissa McCarthy and Ben Falcone have produced a successful life on-screen and off-screen. They have written, produced, and starred in many films together. Married for 13 years, they have two daughters, Vivian and Georgette, who bring the couple the most pride and joy.
Melissa clearly enjoys her role as mom seen as she sat with Ellen DeGeneres and gave a few anecdotes about her daughters.
The eldest, Vivian, born in May 2007, not only looks so much like her mom, but she also shares her love for interior design. McCarthy spoke of a fond parenting moment she shared with husband, Ben Falcone, "Ben walked in and Viv and I were trying out a new bedspread I got, and Viv's like (thoughtfully), 'I just think it might compete with the headboard," McCarthy recalled proudly. "And I literally got weird, I got goosebumps."
She continued proudly,
"Ben just turned around and went, 'Oh my God, I can't have two of you,'"
Eight-year-old, Georgette, her mother says, has a strange fascination for doomsday planning and makeup. Of this, McCarthy says, "She tries to go right down the stairs and out the door, and I'm like, wait, what?" the actress explained, describing Georgette's preferred look. "Full face of makeup, shirt in like a ponytail holder, and like a heeled boot."
While Melissa and Ben try to keep their children out of the spotlight, fans and followers can sometimes catch glimpse of the fun they have parenting them together.
Melissa says of Vivian and Georgette, "We have very funny kids. [When they try to get out of trouble by being funny, we're like,] 'Good bit, a strong bit. However, you still have to go clean up your room.' It's a balancing act. Kids are really smart. They pick up on everything and then you still have to not laugh in front of them as you tell them that something's not appropriate, or something might be too aggressive. Then, when they leave the room … Ben and I try to write it down so we don't forget and then laugh a lot without them seeing. It's a system in a web of lies. That's what it is."
Vivian and Georgette clearly get their wit and humor from their fun parents who have made no secret of their unique and solid love for each other.
The "Life of the Party" star who has been no stranger to diets and weight issues, has made sure to talk to her daughters about having a healthy attitude towards body image, telling them to "enjoy and embrace whatever body type you have."
Please fill in your e-mail so we can share with you our top stories!