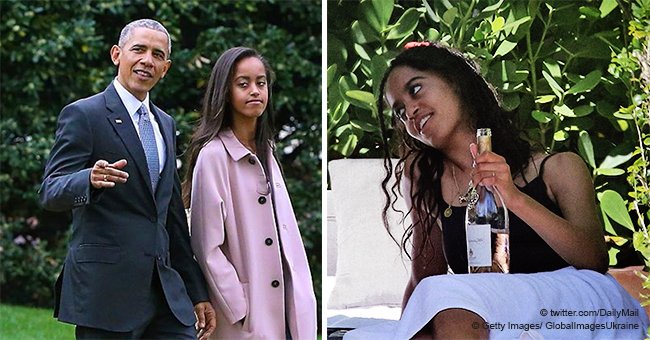 Underage Malia Obama caught drinking wine in tight black swimsuit with her friends

Malia Obama is making the most out of the break from Harvard as she got spotted in Miami sipping on $80 Whispering Angel rosé.
On Sunday, who turns 21 on July 4, enjoyed some wine with three of her friends and relaxed by the pool of an exclusive five-star hotel in Miami.
Although the daughter of Michelle and Barack Obama usually spent Presidents Day weekend in cold Massachusetts, she switched it up for some time in sunny Miami with her friends.
Dressed in a tasteful black one-piece swimsuit, after her white bikini of the day before, and a white towel wrapped around her waist, Malia shared the bottle of wine with her friends as the laughed and spent time together.
The 20-year-old just finished her first year at Harvard University and is set to start her second year in the fall. Both Barack and Michelle attended Harvard where they received law degrees, and it was no surprise when it got announced that Malia would be attending the same university.
However, the four friends did not seem strapped for cash as many university students usually are, as the luxurious resort where they spent the weekend go for over $1,000 per night. Stars like Britney Spears and the Kardashians are said to frequent the resort regularly.
As the eldest of the two Obama sisters, Malia was born in Chicago, Illinois. However, her name is Hawaiian and likely has a relation to dad Barack's birthplace, Honolulu.
Barack became President of the United States in 2009 when Malia was ten years old and left when she was 18, but during that time, Michelle and Barack tried to raise their children as normal as possible. While many fans would argue that Malia spotted with her friends is normal behavior for her age as one follower pointed out:
They still had to make their beds, clean their rooms, and do all those chores teenagers love so much. Malia even had to clean up after Bo; the dog Barack promised she could get if he became president.
Situations where growing up in the White House differed significantly from growing up like other teens included driving lessons, which she got from the Secret Service. Since they deemed it too dangerous for Michelle to teach Malia, they did instead.
The second-year Harvard student doesn't have any social media accounts either, even though it's been rumored that she has, but so far none have been found.
During Malia's weekend in Miami, her British boyfriend Rory Farquharson, whom she is rumored to be dating since 2017, was not spotted during what seemed to be a girl's weekend together.
But Malia does get up to mischief, as Michelle revealed during a talk with Ellen DeGeneres on her show. Actually, they both did, as Michelle spoke of how she and Malia tried to sneak out of the White House to celebrate marriage equality with the people.
Please fill in your e-mail so we can share with you our top stories!