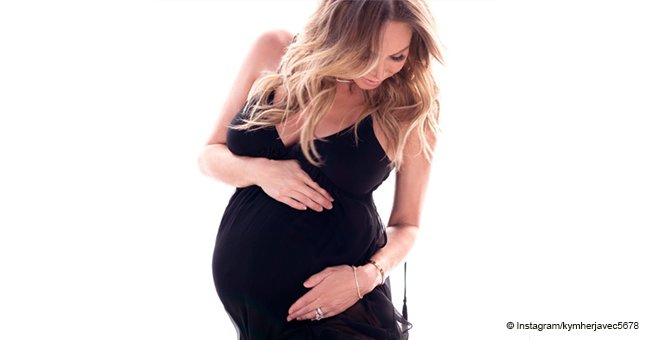 Kym Herjavec flaunts envious post-baby curves as she holds her twins in a racy black bikini
Kym Herjavec is looking like she was never pregnant as she celebrates her post-baby body in its ninth month.
Kym Johnson-Herjavec, a "Dancing With The Stars" pro, and her "Shark Tank" investor husband, Robert Herjavec, welcomed their first children (twins) together, last April.
Kym, who got pregnant through IVF, announced the birth of their son, Hudson Robert, and daughter, Haven Mae, on Instagram by posting a black-and-white photo of the twins being held by Robert, with the caption:
"I never thought my heart could feel so full. We are son in love with our little angels. Born at 7:44 am on 4/23/2018."
The new mother has since regained her pre-baby body, evidenced by a picture she shared on her Instagram story that showed two pictures of her. In one picture, she was wearing a black bikini with a huge baby bump, and in the other, she had a black bikini with the twins on both arms, and her well-toned body on display.
Kym captioned the picture #9monthschallenge, drawing from the #10yearschallenge that went viral on social media.
At the time of her pregnancy, she told PEOPLE:
"My whole thought on this pregnancy is to let my body do what it needs to do. After I have my babies, I'll take my time getting back. I haven't gained much weight on my arms and legs; it does seem to be on my belly."
True to her words, Kym took time getting her body back. She has revealed that she was able to check her weight by eating healthy and engaging in physical activities that kept her fit.
In another post, she shared a picture of the twins standing while playing with a fire engine toy, captioning it "#babiesonthemove #9months," adding that the soon to be 10 months twins are already learning how to walk.
The twins are Kym's first children, but they are not the first for Robert, and his marriage to Kym is also not his first. Before meeting her on "Dancing With The Stars" where they danced as partners, he was married to Diane Plese. Robert and Diane got divorced in 2016, and their marriage produced three children.
Please fill in your e-mail so we can share with you our top stories!