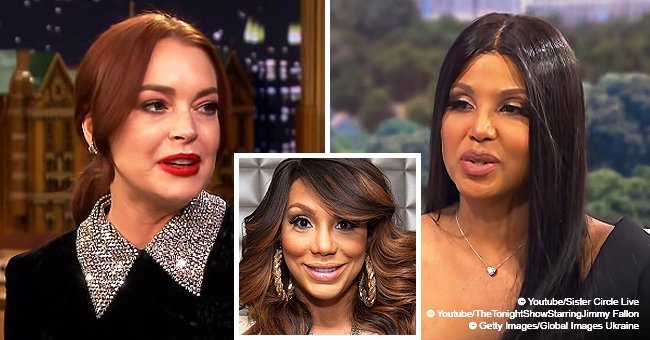 Toni Braxton claps back at Lindsay Lohan after she calls sister Tamar 'deceptive & conniving'

Tamar Braxton, her sister Toni, and Lindsay Lohan got involved in a Twitter "argument." Lindsay even called Tamar "deceptive and conniving."
The "Mean Girls" actress apparently was "stalking" Tamar's Twitter account, and she found a tweet the singer-songwriter posted on September 25, 2017, wherein she promoted her album titled "Bluebird of Happiness."
Lindsay responded to it on February 15 – almost a year and a half later – congratulating Tamar and sharing her blessings. However, she then said that the singer was "not any friend of women."
LINDSAY'S TWEET
"You're deceptive and conniving and so is this #RR MONEY IS MORE TO YOU than being a strong woman #sadness bless you #HappyValentinesDay #KarmaSuperHit," added the actress in her message.
Toni, Tamar's big sister, quickly responded to Lindsay's tweet asking her to "stay out of it." Lindsay's tweet was her way to complain about Tamar's victory on this year's "Celebrity Big Brother," wherein her mother, Dina Lohan, was also participating.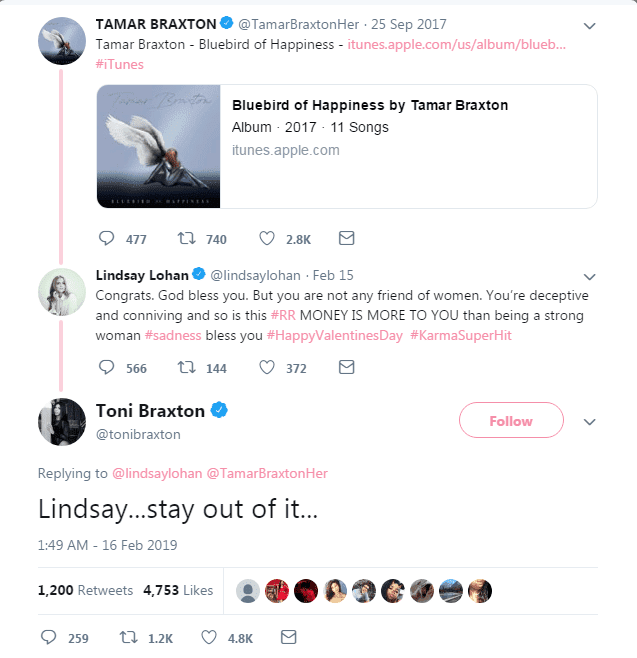 Tamar, Toni, and Lindsay's Twitter argument | Source: Twitter
TAMAR'S VICTORY
As Evelyn Braxton, the mother of the celebrities remarked, Tamar became the first African American woman to win the US version of the show. To make things even more memorable, she did it during Black History Month.
Dina was one of the final four contestants, but she ended up losing to Tamar. Soon after Tamar won, Lindsay uploaded a message to her Instagram page saying that "CBB suck and get no Valentine's from [Lohan Beach Club]."
Apart from that, the actress pointed out that her mother was an amazing woman and that the secrets she heard from the matriarch would "expose" everybody. However, Lindsay deleted the comments on Instagram and said that her account was hacked.
LINDSAY'S ATTEMPT TO BACKTRACK HER WORDS
"I have been made aware that further comments were added to my last Instagram post as to appear that I wrote them. Firstly, I can guarantee these comments were not made from me," revealed Lindsay, who blamed an ex-employee.
Finally, she thanked "CBB" for giving Dina the opportunity of being part of the show and her followers who "made her aware of what was happening" on her social media accounts.
TAMAR'S PLAN WITH THE PRIZE
Since Tamar won the show, she got $250,000. During her appreciation speech, Tamar, 41, expressed gratitude to her friends, family, and fans, but it was her remark about Logan that has everyone getting emotional.
Fighting away tears and holding on tight to her son, Tamar said, "thank you, guys, for just being my lifelong friends. Thank you, guys, so much. I'm so grateful. Now I get to buy my baby a house."
Please fill in your e-mail so we can share with you our top stories!