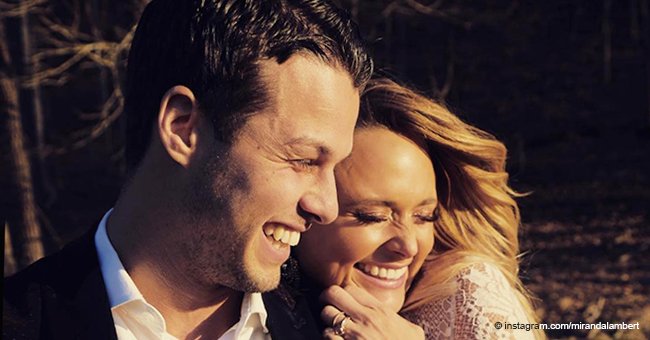 People: Juicy details of Miranda Lambert's first-ever meeting with new husband revealed
This is how country singer Miranda Lambert and her new husband, Brendan McLoughlin met. It's quite an exciting story of fate.
Country music star, Miranda Lambert and her new husband, Brendan McLoughlin, a New York Police Department officer, have been added to the list of well kept Hollywood secret relationships.
The artist and her boo managed to keep their relationship a mystery for three months before tieing the knot in an equally secret wedding. The media has had been lots of speculations regarding when the two met and how they started dating. As reported by PEOPLE, the couple first crossed path on November 2nd, 2018, in New York City.
This was the same day Miranda and her bandmates from Pistol Annies', Ashley Monroe and Angaleena Presley, made an appearance on Good Morning America.
The ladies were on the show to perform their single Got My Name Change Back, while also promoting their new album "Interstate Gospel" which was released on the same day.
Brendan joined the New York Police Department in 2013 and had been with the South Midtown Precinct, where he worked crowd control at concerts. Miranda's performance happened to be within Brendan's Precinct where the Good Morning America stage was set up.
That was not the only coincidence that day, Lambert also later performed at the New York City Town Hall, which was only a block away from where Good Morning America shoots. It seemed fated that they would meet.
Although Brendan is still a new face in the media world, a look at the Twitter page of "NYPD Midtown" showed that he is a hero cop. From the page, it is known that McLoughlin had stopped an ongoing robbery on March 12, 2018.
Another 2015 tweet showed the cop in his uniform working at Times Square. A Twitter user sent a message to NYPD Midtown asking if he was single, after commenting on how handsome he looked. Miranda and Brendan are living a happily ever after story, Miranda posted wedding pictures on Instagram, revealing that she and Brendan were married.
Miranda's post was also the first time her fans found out she was in a relationship after she stated she was "happily single" in August 2018, when her relationship with Evan Felker of Turnpike Troubadours ended. This union is Miranda's second marriage; the country musician was married to Blake Shelton for four years.
Please fill in your e-mail so we can share with you our top stories!