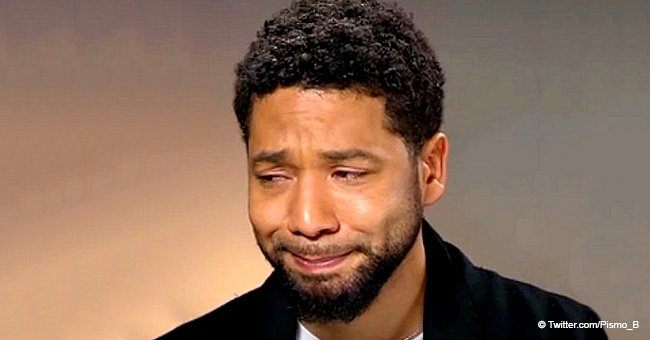 Jussie Smollett staged and rehearsed 'attack' with 2 brothers, law enforcement allegedly reveals

Jussie Smollett's case will reportedly be heard by a grand jury following reports that he allegedly staged his attack.
As investigation surrounding Jussie Smollett's alleged attack progresses, police appear to be more convinced it was staged. The latest news reports suggest police are bent on believing the story told by the incident's alleged suspects. They revealed after they were apprehended that they were paid by the actor to assault him.
A RECAP OF THE SUSPECTS' ARREST AND CLAIMS
We previously reported that Smollett's attackers who were tracked by police through surveillance cameras were arrested at the O'Hare International Airport as they were returning to the US from Nigeria. They fled the country on the day of the attack.
The two men, both Nigerian, were discovered to be actors who played bit parts in Smollett's show, "Empire." Moreover, one of them was previously hired by Smollett to train him for a music video.
The men identified as brothers Ola and Abel Osundairo, admitted during their interrogation that they were paid $3,500 by Smollett to stage the attack and was promised an additional $500 when they returned to the US. They even used the actor's money to purchase the rope that was tied around Smollett's neck during the attack. A receipt from Ace Hardware found in their apartment supports this. Two red hats used during the assault were also discovered inside their apartment.
The brothers claimed they rehearsed the attack with Smollett days before and even drove around to find the perfect location. They decided to fake the attack outside Smollett's apartment after the actor observed there was a surveillance camera that could record it. What he didn't realize later was that the camera was pointed at the opposite direction so no record of the attack was made. He only discovered this after he alerted the police of the camera's existence when he reported the incident.
SMOLLETT'S VERSION OF THE STORY DURING HIS INITIAL REPORT
In the early morning of January 29, Smollett told police he was attacked by two white men in ski masks outside his apartment. He said they tied a rope around him and poured a chemical on his face. He also claimed the attack to be homophobic and racist explaining they shouted slurs at him including "This is MAGA country" and "Make America Great Again."
WHEN DOUBTS ABOUT HIS STORY EMERGED
Smollett gained support from police and sympathy from the public after his story emerged as he was deemed a victim of a terrible hate crime. However, as more details from the investigation emerged, questions arose regarding the credibility of Smollett's account.
Prior to the arrest of the Osundario brothers, police requested for Smollett's phone. But it took a week before the actor surrendered it, the records of which were heavily redacted by then. He claimed he did that to protect the privacy of people not involved in the attack.
Sources also suggest Smollett had a motive for staging an attack. He was reportedly about to be written off "Empire" and wanted to drum up interest in him to prevent it. His show's producers have denied this story.
After the brothers were interrogated, police admitted the trajectory of the investigation shifted though they did not directly assume Smollett was guilty of staging the attack until a follow-up interview with Smollett could be made. A spokesperson for Chicago Police, Anthony Guglielmi expressed this thought in an update on Twitter.
"While we are not in a position to confirm, deny or comment on the validity of what's been unofficially released, there are some developments in this investigation and detectives have some follow-ups to complete which include speaking to the individual who reported the incident."
SMOLLETT'S REACTION TO HIS ALLEGED STAGED ATTACK
It's unclear as of now if Smollett already gave them the follow-up interview but he released a statement after the new allegations emerged. He vehemently denied the accusations through his lawyers Todd Pugh and Victor Henderson who spoke on his behalf and said "nothing is further from the truth and anyone claiming otherwise is lying."
WHAT'S NEXT
As of February 18, the Daily Mail revealed Smollett's case will be heard by a grand jury next week. Police are also keeping an eye on the Osundairo brothers who were released without charges after interrogation. Cops want to make sure there is no contact between them and Smollett before the hearing.
Please fill in your e-mail so we can share with you our top stories!