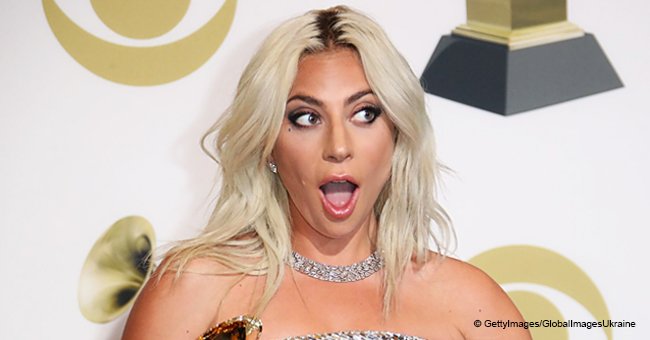 Lady Gaga gets two new tattoos, but one of them had a major mistake due to 'too many tequilas'

Lady Gaga, the renowned musician and actor, made a faux pas with one of her new tattoos.
Gaga shared the latest design with her 33 million Instagram followers a week ago, but they were quick to point an error out.
The tattoo was a staff with music notes spelling out the singer's name. On crotchet, or quarter note, placed on the G-cord-, A-cord, G-cord, A-cord.
However, eagle-eyed fans informed Gaga that her staff had only four lines, and not five. Taking it in her stride, Gaga replied:
"What a drunk musical crisis."
The "A Star Is Born" star has since returned to her tattoo artist to add in the missing line, which represents the F-cord.
She then deleted the original post and posted an updated photo of the tattoo with the caption: "Musical crisis averted." Gaga explained:
"Too many tequilas forgot the fifth staff line poor thing. Here's the real deal."
Gaga has a sense of humor and is not taking the tattoo faux pas too seriously. She also shared a video clip, in which she and her tattoo artist can be heard giggling.
She said: "Musical crisis averted, we're okay. The fifth staff is back. Sorry music!"
Gaga also explained in the caption of the second post that as a music theory student, she's appalled. But as someone having fun friends, she's relieved.
The post soon went viral and has been viewed by more than 2.3 million in the six days it's been online.
The singer also got a second tattoo. A rose along her spine with the words "La Vie en Rose," in commemoration of her character in "A Star Is Born."
At the start of the film, her character Ally sings "La Vie en Rose" at a bar on the night when she meets rockstar Jackson Maine for the first time.
Lady Gaga received an award for Best Duo – along with Bradley Cooper – for their performance of "Shallow" in "A Star Is Born."
The film touches on mental health issues, suicide, and alcoholism. Lada Gaga said in her acceptance speech:
"And a lot of artists deal with that, and we've got to take care of each other. So if you see somebody that's hurting, don't look away."
And while her Academy Award achievements are impressive, Gaga is making headlines for something else entirely.
At the Oscar's Lunch earlier this month, she was caught slyly looking a guys phone while clapping and smiling as the nominations are read.
The video clip soon evolved into a mean and social media users create various scenarios, fitting of Gaga's sneak peek.
One user said on Instagram: "When you hear Grindr notifications going off on your uncle's phone in the middle of a family gathering," while another added:
"When your boyfriend is on his phone next to you."
Please fill in your e-mail so we can share with you our top stories!